A.T. Still University-School of Osteopathic Medicine in Arizona - ATSU-SOMA
Mesa, Arizona
Primary Campus
Overview
Curricular
Premedical Coursework
Admissions
Tuition, Fees & Financial Aid
Apply Now
General Information
ATSU-SOMA trains osteopathic physicians who are dedicated to serving medically underserved patients and their communities. ATSU-SOMA's innovative approach uses early clinical experiences, small group, and personalized learning to create a truly unique and exciting medical education experience. ATSU-SOMA's graduating physicians are highly successful in meeting the challenges of medicine and are equipped with the skills to navigate and adapt to the rapidly changing health care environment.
Mission Statement
Prepare individuals through high-quality, innovative, learning-centered undergraduate and graduate medical education programs to become compassionate osteopathic physicians and health care leaders who serve medically underserved populations with a focus on research and community-oriented primary care.
Admissions Processes During the Pandemic
Interview Options: In-Person
Physician letter required? MD or DO
Virtual Shadowing Options? In-Person Only
Accepts online coursework to fulfill prerequisite requirements? No
Accepts prerequisite coursework pass/fail grades? Yes
Will your institution waive MCAT exam requirements? No
Accepts online lab coursework? Yes
Facilities
Closest City Phoenix
Campus Setting
Suburban
Facilities
ATSU-SOMA's campus in Mesa, Arizona includes carefully designed spaces for large- and small-group learning; osteopathic manipulative medicine(OMM) and medical skills labs with ultrasound imaging and real-time physiological measurements; digital learning resources; and Hololens technology. Students can take advantage of an on-campus osteopathic manipulative medicine clinic that provides osteopathic care and shadowing opportunities. Additionally, students are provided with free access to an on-campus YMCA with state-of-the-art workout facilities.
Student Residence Options
There is no on-campus housing. Upon acceptance, students are provided a link to the housing app for rentals in the area as well as opportunities to network on a closed Facebook page to inquire about roommates or housing.
Accreditation & Affiliation
COM Accreditation Status Commission on Osteopathic College Accreditation and by the Higher Learning Commission.
Institutional Affiliation A.T. Still University-Kirksville College of Osteopathic Medicine (ATSU-KCOM)
A.T. Still University-Kirksville College of Osteopathic Medicine (ATSU-KCOM)
A.T. Still University Arizona School of Health Sciences (ATSU-ASHS)
A.T. Still University College of Graduate Health Sciences (ATSU-CGHS)
A.T. Still University Arizona School of Dentistry & Oral Health (ATSU-ASDOH)
A.T. Still University Missouri School of Dentistry & Oral Health (ATSU-MOSDOH)
A.T. Still University College for Healthy Communities (ATSU-CHC)
Student Demographics
Academic Year Enrollment
Total Medical School Enrollment
611
Total Enrollment Affiliate Institutions
3,973
First-Year Matriculants
144
First-Year Male Matriculants
49
First-Year Female Matriculants
95
Matriculants Out-of-State
127
Self-Reported Race/Ethnicity
American Indian/Alaska Native
0.0%
Black/African American
3.5%
Native Hawaiian/Pacific Islander
0.0%
Majors of First-Year Matriculants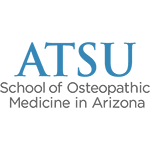 Overview
A.T. Still University-Kirksville College of Osteopathic Medicine (ATSU-KCOM)
Institutional Affiliation
Main Contact
A.T. Still University-School of Osteopathic Medicine in Arizona - ATSU-SOMA
5850 E. Still Circle, Mesa, Arizona 85206
Address
Admissions Office
ATSU-SOMA's first year is held on the Mesa, Arizona campus. During this year, foundational and clinical sciences are integrated into common clinical scenarios which enhance critical thinking and clinical reasoning skills. Students learn how to organize and integrate a patient's history, social determinants of health, physical exam and laboratory findings to better understand the whole person. A variety of learning experiences are offered through self-directed and highly interactive case discussions in small-group problem-solving sessions, simulated patients, hands-on osteopathic skills, and medical skills training.
Second year students are located at one of ATSU-SOMA's community health center partner sites (CHC's). During the second year, students continue to integrate foundational and clinical sciences in small-group sessions and begin weekly interprofessional clinical education experiences as well as complete a community-oriented primary care research project.
Third-and fourth-year students complete clinical rotations in CHC's, out-patient clinics, and in-patient hospital-based settings.
Preparatory Programs
Preparatory/Postbaccalaurete Programs Offered
Special Program
Mindfulness/Compassion Training
Student well-being is important for optimum learning and having the capacity to serve others. Our voluntary program provides students with skills and tools to help face the challenges and achieve balance as a medical student.
Dual Degrees/Concurrent Programs
Dual Degrees/Concurrent Programs Offered
DO/MPH Master of Public Health – offered through the College of Graduate Health Studies at ATSU.
Courses below are shown as either Recommended or Required and, when applicable, include the number of semester hours needed.
Science Courses
Biology/Zoology
Required
8 semester hours
Chemistry (Inorganic)
Required
8 semester hours
Chemistry (Organic)
Required
8 semester hours
Physics
Required
8 semester hours
Non-Science Courses
College English
Required
6 semester hours
Applicants meeting the 2.80 science and cumulative GPA requirement will receive a link to our secondary application within 24 hours of being verified by AACOMAS. Along with the secondary application and $70 fee, applicants will need a minimum of two letters of recommendation and official MCAT scores to be complete and ready for review.
Letters of recommendation may come with the AACOMAS application or separately. Evaluation I must be from a science faculty and evaluation II must be from a physician (MD or DO). Interviews are offered August through April.
Application Information
Primary Application Service: AACOMAS
Earliest Application Submission Date: May 4, 2023
Primary Application Deadline: March 1, 2024
Submission Timing for Best Consideration
ATSU-SOMA utilizes a rolling admissions process. Applicants who apply early in the cycle have the greatest opportunity for an available seat. For best consideration, applicants should submit their AACOMAS application at least eight weeks prior to the deadline.
First Year Class Matriculant's Selection Factors
A bachelor's degree and the MCAT, preferably taken by the Fall semester, but no later than January of the application year, are required. Any undergraduate major is acceptable. Applicants must be U.S. citizens or have permanent residency. Applicants who are community service or public health minded, and who have a desire to serve the underserved and to practice in primary care settings, are highly desirable.
Prospective SOMA students will be evaluated in three major areas: academic accomplishment, personal characteristics of a physician, and propensity to serve the underserved. SOMA requires a personal interview during the application process.
The applicant is strongly encouraged to have clinical exposure in a health care environment.
International Students Accepted? Does Not Accept International Students
Application Interview Format: See Below
The interview format consists or in-person interviews, small-group activities and student ambassador interactions.
Early Decision Program (EDP)
EDP Applications Submitted To Other
Supplemental Application
Supplemental Application Required? Yes
Minimum cumulative and science GPA of 2.80. Two letters of evaluation: one from a science faculty member, and one from a physician (DO or MD; DO preferred). U.S. Citizenship or Residency: ATSU-SOMA is currently accepting applications only from U.S. citizens or permanent residents.
Earliest Supplemental Application Submission Date: June 15, 2023
Supplemental Application Deadline: April 1, 2024
Supplemental Application Sent To: Screened Applicants
Screened applicants must meet minimum 2.80 science and cumulative GPA.
Supplemental Application Fee: $70, non-refundable
Supplemental Application Fee Refundable? No
Supplemental Application Fee Waiver Available? Yes
AACOMAS waiver
Acceptances/Deposit Schedule
Earliest Acceptance Date
September 8, 2023
Latest Acceptance Date
June 30, 2024
Orientation/Start Date for First Year Students
July 10, 2023
Acceptance/deposit deadlines conform to the AACOMAS Traffic Guidelines Schedule? Yes
Applicants will be requested to submit necessary matriculation documents, including a deposit, according to the following AACOMAS traffic guideline schedule:
Those accepted prior to November 15 will have until December 14
Those accepted between November 15 and January 14 will have 30 days
Those accepted between January 15 and April 30 will have 14 days.
Those accepted on or after May 1 may be asked for an immediate deposit.
After May 1 of the year of matriculation, each medical college may implement college-specific procedures for accepted students who hold one or more seats at other medical colleges.
MCAT/GPA Information
Avg. Cum. Undergrad GPA Score
3.48
Oldest MCAT Considered: January 15, 2020
Accept September 2023 MCAT Scores? Yes
Accept January 2024 MCAT Scores? Yes
Accepted Sources for Letters of Recommendation
AACOMAS
Interfolio
Paper
Email
Tuition, Fees & Financial Aid
The tuition and fees below are from the prior 2022-23 academic year and may have changed for this current application cycle. Please confirm the latest rates with the institution.
Tuition
Out-of-State Tuition
$62,526
Fees
Annual Fees
In-State Resident Fees
$2,150
Out-of-State Resident Fees
$2,150
Health Insurance Fee
$3,864
Tuition Fees Include
Technology (not computer)
Diagnostic Set
Blood Pressure Kit
Accessories
Stethoscope
Estimates, Deposits, and More
Estimated Annual Room Board, Books, and Living Costs
$40,985
Average Graduate Indebtedness
$296,717
Acceptance Deposit
$1,000
Additional Deposit
$1,000
Deposit Applied to Tuition? Yes
Deposit Refundable? Yes
Deposit will be refunded if falls under the Three-Day Cancellation Policy.
Financial Aid
Percent of Enrolled Students with Financial Aid 88%
Scholarships Offered? Yes
Annual Scholarship/Grant Per Student: $14,466