Osteopathic Health Policy Internship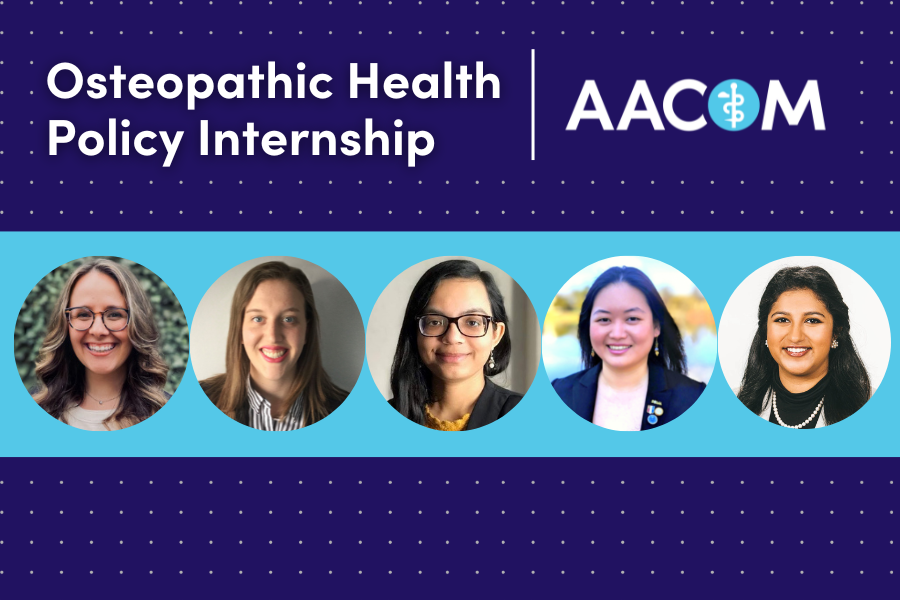 The application cycle for the 2023-2024 OHPI Program has closed.

About
The Osteopathic Health Policy Internship (OHPI) Program enables osteopathic medical students to spend eight consecutive weeks working virtually with AACOM's Government Relations (GR) department. To the extent practical, every effort is made to identify the eight-week period that best accommodates each student's schedule. The OHPI Program affords osteopathic medical students the opportunity to learn about and advance AACOM GR's legislative and regulatory advocacy priorities, such as the FAIR Act, rural healthcare, student financial aid and osteopathic research funding. Past interns have gone on to become healthcare policy leaders, such as Policy Committee Chair of the AOGME Residents and Fellows Council and Vice-Chair of Health Policy at the Emergency Medicine Residents Association.
The 2023-2024 OHPI Program will be conducted virtually through online learning.
Who May Participate?
The program is open to current osteopathic medical students. Selected students (typically rising OMS III or OMS IV) must obtain approval from their colleges of osteopathic medicine to count this internship as an elective rotation and receive academic credit. Women, minorities, individuals with disabilities and veterans are encouraged to apply.
OPHI Responsibilities
Learn about and participate in advancing AACOM GR's legislative and regulatory advocacy priorities.
Assist in building and expanding student support for AACOM policy priorities.
Support GR team with AACOM Advocacy Day and Educating Leaders.
Monitor legislative and regulatory policies impacting the Osteopathic Medical Education community.
Observe and support GR strategic planning and execution.
I would strongly recommend the OHPI Program to any medical student interested in health policy and advocacy work. As an OHPI, you will get to attend meetings hosted by federal organization, such as the CDC and NIH, learn about healthcare issues being discussed by policymakers and connect with experts. It is truly an experience that will change your life!


—Shikha Patel, OMS IV, Rowan-Virtua SOM
Application Process

Your application will consist of the following:
a letter expressing your interest in the OHPI Program that includes a statement of support for AACOM's public policy priorities (one page maximum)
a position paper (one page maximum) that discusses:

the importance and impact of an OME priority on your education, preferably focused on the FAIR Act or increased research funding for COMs at the National Institute of Health;
the policy's impact on osteopathic medical education;
an argument on why the policy should change; and
recommended steps

your curriculum vitae
at least three letters of recommendation
Your position paper should be aligned with AACOM's current public policy priorities (preferably either the FAIR Act or increased research funding for COMs at the National Institute of Health). Please browse AACOM's Policy and Advocacy page, the AACOM Action Center and AACOM Advocacy Day for the most recent policy issues. Applicants for the OPHI Program must include a statement in their letter of interest attesting to the fact that they support AACOM's public policy priorities.

Letters of recommendation should come from individuals outside of AACOM who can attest to your qualifications, academic record, character and advocacy background, such as your preceptors and professors. Letters from institutional leadership are encouraged. Letters of recommendation from current AACOM staff are welcome but will not count towards the minimum letter requirement. Letters may be submitted with the application packet. Alternatively, applicants may notify the OHPI Program contact that the recommenders will submit letters of recommendation separately.
All complete applications are reviewed by AACOM. Reviewers will look for applications that demonstrate strong writing ability, advocacy and leadership experience, policy knowledge and the capacity to assist GR staff in reaching AACOM policy goals.

Please note: OHPI appointments are contingent on the successful completion of a background check. Background check release forms will be sent to the tentative appointees. The background check includes verification of Social Security number, county and multi-state criminal search, education and degree check and a certification/credential check, if applicable. You may still withdraw your application without prejudice at this point if you do not wish to complete the background check process. Once background checks are successfully completed, OHPI appointments are officially announced.
This program has been instrumental in teaching me how to be succinct and more persuasive when it comes to advocacy and policy. I can't imagine a better opportunity for medical students who want to better understand how to help enact change on a national level with skills that also translate to enacting change in your community.


—Kaitlyn Thomas, OMS IV, Lake Erie College of Osteopathic Medicine
How to Apply
All application packets (letter of interest, position paper, CV, and at least three letters of recommendation) should be submitted electronically to OHPIApplications@aacom.org by 11:59 PM ET on Friday, February 17, 2023.
Questions?