Dale S. Dodson Award
Created in memory of AOA Past-President and osteopathic medical education innovator Dale S. Dodson, DO, this annual award recognizes a current or past CEO or CAO of an osteopathic medical college who has made significant contributions to the advancement and support of osteopathic medical education. This award is given out on behalf of AACOM's Assembly of Presidents.
About Dale S. Dodson, DO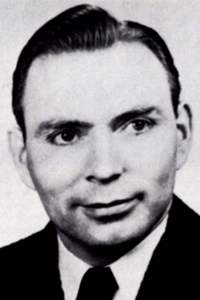 A 1951 graduate of the College of Osteopathic Medicine and Surgery, now the Des Moines University College of Osteopathic Medicine (DMU-COM), Dale S. Dodson, DO, practiced in Northfield, Minnesota, where he also was an energetic public servant.
Dr. Dodson had a passion to serve the osteopathic profession. In 1957, he was elected vice president of the Minnesota State Osteopathic Association and became president the following year. In 1960, Dr. Dodson was named to the Minnesota Osteopathic Association's speakers bureau. He was elected vice president of the American Association of Basic Science Boards in 1961 and became president two years later. He served on the committee that wrote the bill that permitted the Minnesota State Board of Medical Examiners (MSBME) to license osteopathic physicians to practice medicine. He was subsequently appointed to the MSBME and elected president in 1970.
In 1966, when discussing how to recruit and retain more osteopathic medical students, Dr. Dodson stressed the need for motivation to service as a key requirement in student selection. He said, "to succeed in this profession, an aspirant must have a strong desire to be of service to other people and his [or her] reward will automatically follow—and believe me those rewards are excellent."
He also served as vice president and president of the American Osteopathic Association.
Awards Recipients
2023 - Thomas A. Cavalieri, DO
2022 - Angela Franklin, PhD
2021 - Dixie J. Tooke-Rawlins, DO
2020 - Karen J. Nichols, DO, MA, MACOI
2019 - Anthony J. Silvagni, DO, PharmD, MSc
2018 - D. Keith Watson, DO
2017 - Michael Adelman, DO, DPM, JD
2016 - Stephen C. Shannon, DO, MPH
2015 - not awarded
2014 - Bruce Dubin, DO, JD
2013 - Thomas Scandalis, DO
2012 - John Brose, DO
2011 - Clinton Adams, DO, MPA
2010 - Sylvia M. Ferretti, DO
2009 - Marc Hahn, DO, Kathleen Goeppinger, PhD and James W. Cole, DO
2008 - Kendall Reed, DO
2006 - Matthew Schure, DO
2005 - Sandra Featherman, PhD
2004 - Douglas Wood, DO
2003 - Barbara Ross-Lee, DO and Richard Ryan, Jr., DSc
2002 - James Stookey, DO and Kenneth J. Veit, DO, MBA
2001 - William Anderson, DO and Benjamin Cohen, DO
2000 - Myron Magen, DO and Stanley Schiowitz, DO
1999 - Leonard H. Finkelstein, DO and Morton Terry, DO
1998 - Frederick J. Humphrey, II, DO
1997 - Thomas Wesley Allen, DO
1996 - Olen E. Jones, Jr., PhD
1995 - Philip Pumerantz, PhD
1994 - Jack B. Kinsinger, PhD
1993 - Frank W. Myers, DO