Welcome to our Osteopathic Family!
As an organization that serves osteopathic medical students, COSGP has remained committed to ensuring students and colleges of osteopathic medicine (COMs) harness the infinite power and talent within each member. Our commitment is to ensure medical students have a bright future geared toward success.
As we move throughout our careers, we will face continued challenges and obstacles that will test our strength, stifle our progress and make us question our desires. In spite of it all, a fluid environment has persisted, and we are navigating it together.
Although an incredibly strenuous time, you proved to be someone who does not walk away when the time comes for a leader to step forward and take charge of the situation. Instead, you found yourself moving towards the issue with an intensity and fervor unquenchable by merely becoming a bystander. You rose to the occasion and did not back down. A fiery passion ignited within you that continues to burn in your thoughts, words and deeds. As an executive board, we want to cultivate those flames and serve you through leadership development, networking and collaborative growth with our partners.
The theme for this year has been "Lighting the Fire" which alludes to the fire that burns deep within the heart and souls of our members. The love and energy that glows within you and shines a beautiful brightness on all those it touches to help bring life to your community, college and profession.
We hope to continue to provide the kindling, create the spark and stoke the embers of your true passion. Through our coordinated teamwork, you will become members of the osteopathic profession that burn brightly and light a path for others to follow. Be the beacon of courage and compassion that guides others to continue to succeed through uncertainty and hardship. These efforts will grow our osteopathic community and ensure it continues to expand to new heights.
From everyone here at COSGP, we cherish your commitment to serving others and look forward to serving alongside you. Continue to promote the change we need for students and the profession.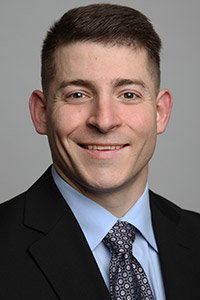 Very Respectfully,


Anthony Sciuva, MHA
COSGP Chair, PCOM South Georgia