Council of GME Leaders
The AOGME Council of GME Leaders is comprised of representatives from members of accredited GME programs or sponsoring institutions, functioning Osteopathic Postdoctoral Training Institutions (OPTIs) organizations, colleges of osteopathic medicine, or designated representatives from a consortium, medical school or related institution supportive of this council's purpose.
Council Leadership

Chair: Guy DeFeo, DO, MS, MEdL, FAOGME
Vice Chair: Sherry Turner, DO, MPH, FACOEP
Key Activities
Maintaining communication with GME leaders that represent the operations of functioning OPTIs, OPTIs that have reconstituted as sponsoring institutions and COM-based GME offices that manage multiple GME programs.
Sharing information relative to distinctive osteopathic principles in GME and development of Osteopathic Recognition in established programs.
Promoting development of new GME programs, especially to support the osteopathic profession.
Participating in dialogue regarding best practices for GME with all organizations supporting the osteopathic profession
Presenting recommendations to AOGME and other constituencies and preparing and presenting reports that may be requested by the Board of AOGME.
AOGME GME Development Institute: Strategies to Advance GME Growth in Medically Underserved Rural and Urban Areas
The goal of this event was to provide the latest information, resources and technical assistance on GME growth from national experts in the field. Best practices on developing and expanding GME as well as challenges were highlighted. View the program guide for more details.
The audience for this event includes college of osteopathic medicine (COM) Deans, Clinical Deans, other COM leadership focused on GME, GME faculty and administration and hospital leadership. Programs and institutions at different stages of development of GME (new and established) are encouraged to view the recordings.
View the PowerPoint slidedecks for the GME Development Institute sessions.
Session Recordings:
Forums on GME Growth & Development
The AOGME Council of GME Leaders organizes forums to support GME growth and development among colleges of osteopathic medicine and other GME leaders and to highlight strategies to develop and grow GME programs/positions. In the forums, GME leaders across the nation's colleges of osteopathic medicine share best practices, strategies, challenges and solutions to support GME growth in medically underserved urban and rural settings. Phase I of the forums featured seven presentations from across the nation led by the following GME leaders:
Osteopathic Recognition Contacts
at Colleges of Osteopathic Medicine
Touro University California, College of Osteopathic Medicine
May Lin, DO
University of New England College of Osteopathic Medicine
Guy DeFeo, DO
University of North Texas Health Science Center at Fort Worth - Texas College of Osteopathic Medicine
Sajid Surve, DO
West Virginia School of Osteopathic Medicine
Abigail Frank, DO
William Carey University College of Osteopathic Medicine
Melissa Stephens, MD
Recognizing the need for a new system to structure and accredit osteopathic GME, the American Osteopathic Association established the Osteopathic Postdoctoral Training Institution (OPTI) in 1995.
Each OPTI was a community-based training consortium comprised of at least one college of osteopathic medicine and one hospital. Other hospitals and ambulatory care facilities may also partner within an OPTI. Community-based healthcare facilities, such as ambulatory care clinics, rehabilitation centers and surgicenters, now have the resources and support necessary to provide physician training with an OPTI's assistance.
OPTIs were organized to provide a comprehensive, seamless model of education for physician training, from colleges of osteopathic medicine through GME programs. While each OPTI is unique, all share the goal of adding value to GME training by assuring the osteopathic concepts of whole-person care, wellness and prevention, caring for the patient's individual health needs, environment and ability to access quality healthcare.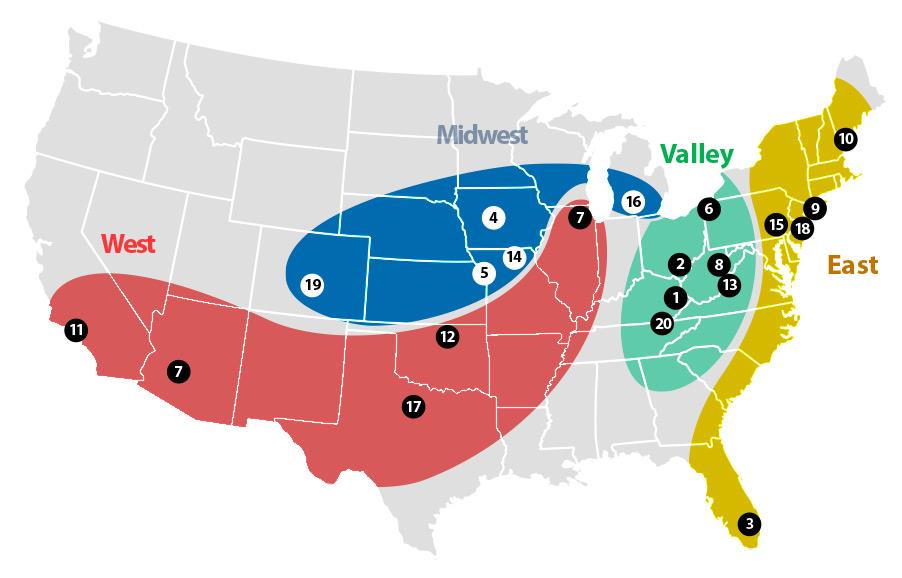 WEST

MIDWEST

VALLEY

EAST

MWU/OPTI
OPTI-WEST
OMECO
Texas OPTI
TUMEC

HEARTland
KCUMB-COMEC
Still OPTI
SCS/MSUCOM
RM OPTI

A-OPTIC
CORE
LECOMT
MSOPTI
OMNEE
TOMEC

NSU-COM CEME
NYCOMEC
NEOMEN
PCOM MEDNet
UMDNJ-SOM OPTI