Burrell College of Osteopathic Medicine - Burrell COM
Las Cruces, New Mexico
Primary Campus
Melbourne, Florida
Additional Locations
Overview
Curricular
Premedical Coursework
Admissions
Tuition, Fees & Financial Aid
Apply Now
General Information
The Burrell College of Osteopathic Medicine utilizes the latest technologies and learning methods to ensure success in the classroom and future professional practice.
Led by highly experienced professionals from osteopathic, allopathic and general higher education, the College is committed to impacting the workforce needs and access to quality medical services in the region.
Burrell College is located in Las Cruces, New Mexico on the campus of New Mexico State University and, if approved by all appropriate entities, includes a forthcoming additional location in Melbourne, Florida (anticipated July 2024) on the campus of Florida Institute of Technology.
The College celebrates its nationally recognized faculty, students and clubs, and its collaborative campus climate.
Continued commitment to increasing diversity in the physician workforce is a top priority for Burrell College, and we are proud to be recognized by Insight Into Diversity as a 2022 Top College for Diversity.
Medical students are very active in coordinating and participating in regional community outreach, education, and service projects.
The College's robust pre-clinical standardized patient program, high fidelity mannequins, and procedure-specific training provide medical students with opportunities to refine their clinical skills.
Medical students expand their knowledge by utilizing the gross anatomy cadaver lab and digital anatomy software and through opportunities to engage in research.
The College boasts a 99% average graduate medical education placement rate.
Please note: Photos below depict building and students from the Las Cruces, NM campus.
Mission Statement
Para la gente y el futuro: For the people and the future, the Burrell College of Osteopathic Medicine at New Mexico State University is dedicated to improving the health of the Southwestern United States and its border with Northern Mexico through culturally respectful undergraduate, graduate and continuing osteopathic medical education, research and its support of clinical service to the community.
The College is focused on increasing diversity in the physician workforce and fostering a practice of life-long learning, compassion, respect and excellence in its students.
Admissions Processes During the Pandemic
Interview Options: Virtual
Physician letter required? Not Required
Virtual Shadowing Options? Not Required
Accepts online coursework to fulfill prerequisite requirements? Yes
Accepts prerequisite coursework pass/fail grades? Other
Prerequisite coursework with a grade of "Pass" will be considered if completed while COVID-19 mandates are/were in place.
Will your institution waive MCAT exam requirements? No
Accepts online lab coursework? Yes
Facilities
Closest City Las Cruces, NM and Melbourne, FL
Campus Setting
Suburban
Facilities
Burrell College's New Mexico campus is located on the campus of New Mexico State University (NMSU) in the Chihauhuan desert of Las Cruces, NM, a beautiful, temperate and vibrant Southwest city with strong economic growth. Las Cruces is New Mexico's second largest city with plenty of outdoor activities for residents, including hiking in the Organ Mountains, bird watching in and around Dripping Springs and river rafting on the Rio Grande. Nationally, Las Cruces has been recognized as a top place for work, recreation, tourism, retirement and raising a family.

When approved by all appropriate entities, Burrell College's forthcoming Florida campus will be on the campus of the Florida Institute of Technology (FIT) in Melbourne, FL, along Florida's central east coast. Melbourne residents enjoy spending time outdoors, visiting beaches, snorkeling, fishing, and boating. Nearby attractions include the Kennedy Space Center, the Indian River Lagoon Preserve State Park, and Florida Tech Botanical Gardens. Melbourne lies within 75 miles of Orlando and Walt Disney World.

Both locations offer large and small-group instructional spaces and interactive laboratories, including OMM and Physical Diagnosis labs, Standardized Patient and Simulation labs, Research labs, and Gross Anatomy labs.

Through the College's library, students have access to core medical and osteopathic collection materials, including electronic databases and journals, print and electronic books, and media titles. Through partnerships with both NMSU and FIT, Burrell has additional library access as well as access to common areas, study spaces, dining, housing, healthcare, and recreational facilities.
Student Residence Options
Please visit College's website for information on housing. There is also a student-managed Facebook page for housing suggestions and guidance for incoming students.
Accreditation & Affiliation
COM Accreditation Status The Burrell College of Osteopathic Medicine is accredited by the Commission on Osteopathic College Accreditation (COCA).
The College has been granted permission by the COCA to recruit to the Florida campus. Other required approvals could be received as soon as the late summer of 2023.
Institutional Affiliation None
Student Demographics
Academic Year Enrollment
Total Medical School Enrollment
662
Total Enrollment Affiliate Institutions
662
First-Year Matriculants
195
First-Year Male Matriculants
123
First-Year Female Matriculants
71
First-Year Other Matriculants
1
Matriculants Out-of-State
185
Self-Reported Race/Ethnicity
American Indian/Alaska Native
0.0%
Black/African American
16.9%
Native Hawaiian/Pacific Islander
0.5%
Majors of First-Year Matriculants
Additional Locations
Additional Locations
Burrell College - Florida campus
Affiliation Burrell College
Address Melbourne, Florida
Campus Setting Suburban
Website https://burrell.edu/
Phone (575) 674-2266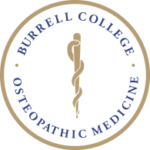 Overview
None
Institutional Affiliation
Main Contact
Burrell College of Osteopathic Medicine - Burrell COM
3501 Arrowhead Drive, Las Cruces, New Mexico 88001
Address
Admissions Office
The Burrell College of Osteopathic Medicine provides a four-year, evidence-based osteopathic medical education program that enables students to acquire the knowledge and competencies required to enter graduate medical education and the practice of osteopathic medicine. The applications-based curriculum integrates medical knowledge, clinical skills and osteopathic principles and practice while its instructional design utilizes active learning techniques through case discussions, team-based learning, laboratory and skills instruction, and interactive integrative sessions.
Students are engaged through simulated clinical experiences, small group sessions and directed study. Course offerings emphasize knowledge acquisition, problem solving through critical analysis and thought, patient-centered focus, professional demeanor, inter-professional collaboration, and guide the student's development of a holistic approach to clinical practice. The Burrell College of Osteopathic Medicine's clinical training curriculum is community-based and conducted in its affiliated hospitals and clinics under the supervision of a faculty in multiple medical specialties.
Burrell COM does not currently offer Dual Degree or Concurrent Programs.
Premedical Coursework
Courses below are shown as either Recommended or Required and, when applicable, include the number of semester hours needed.
Science Courses
Biology/Zoology
Required
With Lab
8 semester hours
Cell/Molecular Biology
Recommended
Chemistry (Inorganic)
Required
With Lab
8 semester hours
Chemistry (Organic)
Required
With Lab
8 semester hours
Physics
Required
With Lab
8 semester hours
Additional Science Courses
Required: Science Elective, 3 semester hours
Recommended: Neurosciences
Non-Science Courses
Behavioral Sciences
Recommended
College English
Recommended
6 semester hours
Admissions
The Burrell College of Osteopathic Medicine utilizes a single designation within AACOMAS. Applicants wishing to apply to either the New Mexico or forthcoming Florida campus should simply select Burrell College to receive their AACOMAS application. Applicants who meet minimum requirements will have the opportunity to register their campus preference on the Supplemental Application.
The College uses a holistically driven, rolling admissions process whereby applicants are assessed in several different areas, including academic and non-academic characteristics. Applicants from both in-state and out-of-state are encouraged to apply; at this time, the College is unable to consider international applicants.
Applicants are strongly encouraged to review all of the admission requirements and information related to the admissions process on the College's website, prior to submitting.
Application Information
Earliest Application Submission Date: May 4, 2023
Primary Application Deadline: April 2, 2024
Submission Timing for Best Consideration
For best consideration, applicants should submit their AACOMAS application by February 2024.
First Year Class Matriculant's Selection Factors
The College seeks to recruit and admit a diverse cohort of students who have shown a commitment to fulfilling the College's mission. Applicants are screened for academic excellence and achievements, clinical experience, community service, maturity, motivation, and awareness of the osteopathic profession.
International Students Accepted? Does Not Accept International Students
Application Interview Format: Traditional
Supplemental Application
Supplemental Application Required? Yes
The Supplemental Application allows applicants to provide the College with additional information about themselves and their applications through responses to posed questions. Applicants will register their preference for the New Mexico campus in Las Cruces, NM or, if approved by all entities, the forthcoming Florida campus in Melbourne, FL on the Supplemental Application.
Earliest Supplemental Application Submission Date: June 20, 2023
Supplemental Application Deadline: April 16, 2024
Supplemental Application Sent To: Screened Applicants
Once the College has received and applicant's verified AACOMAS primary application, the Office of Admissions will complete pre-screening to verify the following minimum requirements:
Current US Citizen or Permanent Resident
Submission of a Medical College Admission Test (MCAT) score
Applicants who meet the minimum pre-screening requirements will receive an email containing login instructions on how to complete and submit the supplemental application.
Supplemental Application Fee: $80
Supplemental Application Fee Refundable? No
Supplemental Application Fee Waiver Available? Yes
To request your Supplemental Application fee be waived, once you have received your Supplemental Application invitation, please email the Office of Admissions at
admissions@burrell.edu
to review your circumstance. 
Acceptances/Deposit Schedule
Earliest Acceptance Date
October 15, 2023
Latest Acceptance Date
July 12, 2024
Orientation/Start Date for First Year Students
July 15, 2024
Deferred Entrance Requests Considered? Yes
The maximum time applicants have to accept an offer is according to the schedule below:
Those offered a seat prior to November 15 will have 30 days to confirm acceptance of the offer. Those who have confirmed acceptance will have until December 14 to pay the accompanying non-refundable seat deposit.
Those offered a seat between November 15 and January 14 will have 30 days to accept the offer and submit the seat deposit.
Those offered a seat between January 15 and May 14 will have 14 days to accept the offer and submit a seat deposit.
Those offered a seat after May 15 may be asked for an immediate seat deposit.
MCAT/GPA Information
Avg. Cum. Undergrad GPA Score
3.56
Accept September 2023 MCAT Scores? Yes
Accept January 2024 MCAT Scores? Yes
Accepted Sources for Letters of Recommendation
AACOMAS
Interfolio
Paper
Email
Tuition, Fees & Financial Aid
2023-2024 Academic Year
The tuition and fees below are specific to the campus in Las Cruces, New Mexico for the Academic Year (AY) 2023-2024. For estimated tuition and fees for AY 2024-2025 please access the proposed draft of the Catalog for AY 2024-2025 on the College's website.
Tuition
Out-of-State Tuition
$63,701
Fees
Annual Fees
In-State Resident Fees
$1,664
Out-of-State Resident Fees
$1,664
Health Insurance Fee
Included in Estimated Annual Room, Board, Books and Living Costs
Tuition Fees Include
Technology (not computer)
Estimates, Deposits, and More
Estimated Annual Room Board, Books, and Living Costs
$26,641
Average Graduate Indebtedness
$295,500.50
Acceptance Deposit
$2,000, non-refundable
Deposit Applied to Tuition? Yes
Financial Aid
Percent of Enrolled Students with Financial Aid 88%
Scholarships Offered? Yes
Annual Scholarship/Grant Per Student: $15,167