Rocky Vista University - Montana College of Osteopathic Medicine - MCOM
Billings, Montana
Primary Campus
Overview
Curricular
Premedical Coursework
Admissions
Tuition, Fees & Financial Aid
Apply Now
General Information
Montana College of Osteopathic Medicine (MCOM) is an independently operated branch campus of the established Rocky Vista University College. We are committed to producing graduates who not only are knowledgeable and skilled, but who also are ethical, compassionate, holistic, and patient-centered.
It is our goal that all MCOM students will practice the traditions of osteopathic principles, philosophy and heritage and will become well-rounded physicians equipped to meet the diverse needs of patients today and into the future.
Mission Statement
To educate and inspire students to become highly competent osteopathic physicians and lifelong learners prepared to meet the diverse health care needs of tomorrow through innovative education, relevant research, and compassionate service.
Admissions Processes During the Pandemic
Interview Options: Virtual
Physician letter required? Not Required
Virtual Shadowing Options? Virtual or In-Person Accepted
Accepts online coursework to fulfill prerequisite requirements? Yes
Accepts prerequisite coursework pass/fail grades? No
Will your institution waive MCAT exam requirements? No
Accepts online lab coursework? Yes
Facilities
Closest City Billings, MT
Campus Setting
Suburban
Facilities
The 138,000 square foot RVU-MCOM campus facility is located on 12.8 acres overlooking the Beartooth Mountains in Billings, MT. Key features include modern architecture capitalizing on natural light, innovative technology throughout, a 23,000 square feet Simulation in Medicine & Surgery (SiMS) Center, group-based active learning spaces, an expansive anatomy lab for both cadavers and virtual reality, and a dedicated Osteopathic Clinical Skills lab. The SiMS Center employs a range of simulation tools including immersion room technology that can project virtually any visual scenario into the learning space using a 270O high-definition projector with image or videos captured from a 360-degree camera.
The thoughtfully planned health education building provides a learning environment that incorporates student wellness, resilience, and professionalism into the programming. Emphasis on physical and mental wellbeing flows throughout the campus and includes a yoga studio and full fitness center. The indoor and outdoor spaces are designed to build community by giving students places to gather.
Student Residence Options
Numerous apartment complexes are available in close proximity to the campus.
Accreditation & Affiliation
COM Accreditation Status MCOM has received programmatic accreditation by the Commission on Osteopathic College Accreditation (COCA) of the American Osteopathic Association (AOA). The new campus also has regional accreditation from the Higher Learning Commission (HLC).
Institutional Affiliation Rocky Vista University (Parker, CO)
Student Demographics
Entering Class 2022

MCOM will enroll it's initial class in 2023.
Academic Year Enrollment
Total Medical School Enrollment
N/A
Total Enrollment Affiliate Institutions
1,372
First-Year Matriculants
N/A
First-Year Male Matriculants
N/A
First-Year Female Matriculants
N/A
Matriculants In-State
N/A
Matriculants Out-of-State
N/A
Self-Reported Race/Ethnicity
American Indian/Alaska Native
N/A
Black/African American
N/A
Native Hawaiian/Pacific Islander
N/A
Majors of First-Year Matriculants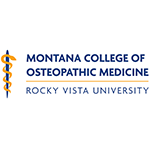 Overview
Rocky Vista University (Parker, CO)
Institutional Affiliation
Main Contact
Rocky Vista University - Montana College of Osteopathic Medicine - MCOM
4130 Rocky Vista Way, Billings, Montana 59106
Address
Admissions Office
Curricular Offerings
The design of the curriculum is based on a proven systems-based integrated academic model. It emphasizes interdisciplinary collaboration, guiding students to develop a holistic, and more importantly, an osteopathic approach to medicine. In utilizing a systems approach to medical education, basic biomedical science disciplines are integrated with clinical sciences in a fashion that reflects clinical relevancy, rather than broken down into individual segregated disciplines.
The overall curriculum is scheduled in blocks with intervening periods of integrations, reflection, wellness, and time for scholarly activity and electives. Weekly schedules follow a format of faculty guided Student Directed Learning during most afternoons and group Active Learning Sessions most mornings. Assessments are formative and summative with an emphasis on learning of material and competency of skill. MCOM continually correlates basic scientific information and methodology with fundamental clinical application.
Students are exposed to clinical settings and simulation beginning in their first semester and continuing throughout the first two years of coursework, giving them the opportunity to prepare for the "real world" of medicine. We believe that by adding early clinical skills, simulation, and active learning in a team or small group setting early in the curriculum will strengthen the students' abilities to think critically, solve clinical problems, and develop the skills they will require to continue to learn throughout their careers. Professionalism and ethics are key components for a physician and are emphasized throughout the entire curricular experience at MCOM.
Third and fourth-year students are placed at one of our regional training sites throughout the state and region to ensure continuity and coordination of clinical education within RVU's vast and growing clinical training network. The competency-based curriculum is designed to fulfill our mission of training students who are competent and ready to enter graduate medical education and training, with an emphasis on preparing students to become primary care physicians.
MCOM has a dedicated faculty; established affiliations with medical centers, hospitals, and health care systems; a structured and supported rural medicine program; and a mission to educate the finest osteopathic physicians possible.
Educational Tracks
Special Tracks and Electives will be offered at MCOM. These will include but not limited to Academic Medicine & Leadership, Rural & Wilderness Medicine, Global Medicine, Digital Health, Military Pathway, Physician Scientist, and others in development.
Preparatory Programs
Preparatory/Postbaccalaurete Programs Offered
Master of Medical Sciences (MMS)
The RVU Montana Campus plans to offer an MMS degree program. This is currently under development and accreditation process.
Premedical Coursework
Courses below are shown as either Recommended or Required and, when applicable, include the number of semester hours needed.
Science Courses
Biochemistry
Required
3 semester hours
Biology/Zoology
Required
With Lab
8 semester hours
Chemistry (Inorganic)
Required
With Lab
8 semester hours
Chemistry (Organic)
Required
With Lab
8 semester hours
Physics
Required
With Lab
8 semester hours
Non-Science Courses
Behavioral Sciences
Required
6 semester hours
College English
Required
6 semester hours
Math/Statistics
Recommended
Admissions
Interview considerations are only given to candidates possessing a minimum of 3.00 science GPA and 3.00 cumulative GPA. An MCAT score is required and must be within the immediate three years. MCOM does not require a minimum MCAT score. Three letters of recommendation are required including an academic reference (pre-med committee or advisor, science faculty or anyone who can address the candidate's academic aptitude), a clinical reference to include someone who supervised the candidate's work (voluntary or paid) in a clinical setting, and a third letter of the candidate's choice.
MCOM seeks well-rounded, service-oriented individuals who can complete an academically rigorous curriculum and will help the college fulfill its mission. MCOM assures equal opportunity to all students and applicants, regardless of gender, age, race, color, non-disqualifying disability, religion or creed, sexual orientation, or national or ethnic origin to all the rights, privileges, programs, and activities generally accorded or made available to students at the school and does not discriminate in administration of its educational policies, admissions policies, scholarship and loan programs, or other school-administered programs.
Application Information
Primary Application Service: AACOMAS
Earliest Application Submission Date: May 4, 2023
Primary Application Deadline: March 15, 2024
Submission Timing for Best Consideration
As MCOM reviews candidates on a rolling-process, it is in the candidate's best interest to submit their AACOMAS application as early in the cycle as possible. Please note that all interviews may be concluded prior to the stated application deadlines if all seats are filled
First Year Class Matriculant's Selection Factors
MCOM seeks well-rounded, service-oriented individuals who can complete an academically rigorous curriculum and will help the college fulfill its mission.
International Students Accepted? Accepts International Students
Application Interview Format: See Below
Interviews will be conducted virtually in an online format. Each candidate will interview with one-to-two individuals selected by the MCOM Office of Admissions. Interviewers will only have access to personal statements, work and volunteer experience, honors and awards, MCOM supplemental questions, and letters of recommendation. Interviewers will not have access to a candidate's academic information or MCAT scores. Interview questions may be based only on information from the supplemental application and non-academic information from the primary AACOMAS application. The length of the interview is approximately 45-minutes and the style is relaxed and conversational to help determine a candidate's fit for the expected culture of MCOM.
Supplemental Application
Supplemental Application Required? Yes
Verified AACOMAS applications will be screened for our minimum requirements. Candidates must possess a 3.0 GPA (cumulative and science) and a qualifying MCAT score taken within the last three years prior to matriculation. Qualifying applicants will be invited to submit the supplemental application. A candidate's file is considered complete upon receipt of verified AACOMAS application, supplemental application, official MCAT score and required letters of recommendation.
Earliest Supplemental Application Submission Date: May 18, 2023
Supplemental Application Deadline: April 15, 2024
Supplemental Application Sent To: Screened Applicants
Verified AACOMAS applications will be screened for our minimum requirements. Candidates must possess a 3.0 GPA (cumulative and science) and a qualifying MCAT score taken within the last three years prior to matriculation. Qualifying applicants will be invited to submit the supplemental application.
Supplemental Application Fee: $60, non-refundable
Supplemental Application Fee Refundable? No
Supplemental Application Fee Waiver Available? Yes
Supplemental fee waivers are available for candidates who are eligible to receive an AACOMAS fee waiver; and for U.S. Armed Forces Veterans or active duty (applicant or spouse of applicant).
Acceptances/Deposit Schedule
Earliest Acceptance Date
August 18, 2023
Latest Acceptance Date
July 22, 2024
Orientation/Start Date for First Year Students
July 22, 2024
Deferred Entrance Requests Considered? Yes
For compelling reasons.
Acceptance/deposit deadlines conform to the AACOMAS Traffic Guidelines Schedule? Yes
Applicants will be requested to submit necessary matriculation documents, including a deposit, according to the following AACOMAS Traffic Guidelines schedule:
Those accepted prior to November 15 will have until December 14
Those accepted between November 15 and January 14 will have 30 days
Those accepted between January 15 and April 30 will have 14 days.
Those accepted on or after May 1 may be asked for an immediate deposit.
After May 1 of the year of matriculation, each medical college may implement college-specific procedures for accepted students who hold one or more seats at other medical colleges.
MCAT/GPA Information
Avg. Cum. Undergrad GPA Score
0.00
Oldest MCAT Considered: January 1, 2021
Accept September 2023 MCAT Scores? Yes
Accept January 2024 MCAT Scores? Yes
Accepted Sources for Letters of Recommendation
Tuition, Fees & Financial Aid
The tuition and fees below are from the prior 2022-23 academic year and may have changed for this current application cycle. Please confirm the latest rates with the institution.
Tuition
Fees
Annual Fees
In-State Resident Fees
TBA
Out-of-State Resident Fees
TBA
Estimates, Deposits, and More
Estimated Annual Room Board, Books, and Living Costs
TBA
Average Graduate Indebtedness
N/A
Acceptance Deposit
$2,000, (paid over three installments)
Deposit Applied to Tuition? Yes
Financial Aid
Percent of Enrolled Students with Financial Aid 0%
Scholarships Offered? Yes
Annual Scholarship/Grant Per Student: N/A