Touro University California College of Osteopathic Medicine - TUCOM
Vallejo, California
Primary Campus
Henderson, Nevada
Branch Campuses
Overview
Curricular
Premedical Coursework
Admissions
Tuition, Fees & Financial Aid
Apply Now
General Information
Established in 1997, TUCOM California is training the doctors this nation needs to achieve a healthy future. The curricular emphasis on primary care, inter-professionalism, healthcare disparities, disease prevention, and public health prepares our graduates exceptionally well for contemporary medical practice.
At a time when many universities are graduating doctors in specialized medicine, Touro continues to remain in the top echelon of those graduating new physicians choosing a career in primary care. The comprehensive, challenging curriculum ensures students will gain a solid foundation in basic science and clinical practice that will enable them a gratifying career whether they choose primary care or specialty medicine.
Our students learn osteopathic medical manipulation from faculty clinicians who are widely respected as leaders in their discipline. Faculty scholars mentor students in laboratory research, which impacts patient care and the health of families and communities. Our graduates attain highly-coveted, competitive residency positions from primary care to medical and surgical sub-specialties, while our alumni continue to distinguish themselves in their practices from coast to coast.

Institutional Affiliation
The Touro College and University System is comprised of Jewish-sponsored non-profit institutions of higher and professional education. Touro College was chartered in 1970 primarily to enrich the Jewish heritage, and to serve the larger American community.
Approximately 19,000 students are currently enrolled in its various schools and divisions. Touro College has branch campuses, locations and instructional sites in the New York area, as well as branch campuses and programs in Berlin, Jerusalem, Moscow, Paris, and Florida. Touro University California and its Nevada branch campus, as well as Touro College Los Angeles and Touro University Worldwide, are separately accredited institutions within the Touro College and University System.
Mission Statement
The TUCOM-CA mission is to prepare students to become outstanding osteopathic physicians who uphold the values, philosophy and practice of osteopathic medicine and who are committed to primary care and the holistic approach to the patient. The program advances the profession and serves its students and society through innovative pre-doctoral and post-doctoral education, research, community service, and multidisciplinary and osteopathic clinical services.
Admissions Processes During the Pandemic
Interview Options: Virtual
Physician letter required? Not Required
Virtual Shadowing Options? Virtual or In-Person Accepted
Accepts online coursework to fulfill prerequisite requirements? Yes
Accepts prerequisite coursework pass/fail grades? Yes
Will your institution waive MCAT exam requirements? No
Accepts online lab coursework? Yes
Facilities
Closest City Located on Mare Island, in the city of Vallejo, the TUCOM California campus is in the Northern part of the San Francisco Bay Area.
Campus Setting
Suburban
Facilities
The Vallejo campus of Touro University California is centrally located between San Francisco and Sacramento, within the San Francisco Bay Area. The TUC campus is surrounded by hiking, walking, and biking trails, and is in close proximity to many diverse and culturally rich activities. Campus facilities include a full-size gymnasium, racquetball/handball courts, weight rooms, out-door exercise areas, meditation garden, and other general fitness areas.
Student Residence Options
Touro University California employs a housing specialist to assist students in locating suitable housing options. Most of our students live in Vallejo or surrounding communities within a short drive to campus. University subsidized housing is not provided.
Accreditation & Affiliation
COM Accreditation Status TUCOM California is fully accredited by the Commission on Osteopathic College Accreditation (COCA). Touro University California is fully accredited by the WASC Senior College and University Commission (WSCUC).
Institutional Affiliation Touro College and University System; Touro University Nevada
Student Demographics
Academic Year Enrollment
Total Medical School Enrollment
550
Total Enrollment Affiliate Institutions
1,239
First-Year Matriculants
131
First-Year Male Matriculants
57
First-Year Female Matriculants
74
Matriculants In-State
118
Matriculants Out-of-State
13
Self-Reported Race/Ethnicity
American Indian/Alaska Native
0.0%
Black/African American
2.3%
Native Hawaiian/Pacific Islander
0.8%
Majors of First-Year Matriculants
Additional Locations
Branch Campuses
Touro University Nevada College of Osteopathic Medicine - TUNCOM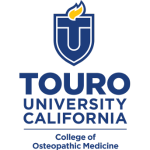 Overview
Touro College and University System; Touro University Nevada
Institutional Affiliation
Main Contact
Touro University California College of Osteopathic Medicine - TUCOM
1310 Club Drive, Vallejo, California 94592
Address
Admissions Office
Curricular Offerings
Our didactic (pre-clinical) curriculum is system based, integrated, and competencies driven, which means you are prepared to "do" things and not just "know" things. Topics are presented in a modular, team-based learning format. Learning groups of approximately six students spend two-to-three weeks on each module followed by a comprehensive exam. Osteopathic practice and theory are woven throughout our didactic curriculum.
Our clinical curriculum is designed so that students are exposed to a mix of experiences at both teaching and regional/community hospitals. Third year rotation schedules are generally assigned with approximately 90 percent of our students securing their first or second core hospital choices. Fourth-year rotation schedules are designed by the student, which allows for greater flexibility for audition rotations, board preparation, and residency interviews.
For additional information regarding our curriculum, please refer to http://com.tu.edu/academics/do.html
Preparatory Programs
Preparatory/Postbaccalaurete Programs Offered
Master of Science in Medical Health Sciences
This program is designed to enrich a student's academic knowledge base as well as to strengthen a prospective medical student's credentials for admission to medical school. This one-year program consists of a rigorous graduate curriculum in the basic medical sciences and a semester-long research internship course.
Master of Public Health
The Master of Public Health degree program can provide prospective medical school applicants the ability to add depth to their application portfolio. Public Health education complements osteopathic medicine philosophies and can lay the groundwork for future physicians to transition into the public policy and health administration sectors.
Special Programs
Global Health Program
The Touro University Program in Global Health grounds teaching of global health in the complex realities of local communities and health service institutions through an integrated curriculum of case-based courses, research apprenticeships, elective rotations, summer internships, and clinical and public health practicum.
WARM (Wellness, Academic Achievement, Resilience, Mindfulness) Program
Medical education must shift its paradigm from solely focusing on high academic performance to also creating a well-rounded medical student, honing in on personal and professional growth. The osteopathic philosophy emphasizes the unity of mind, body, spirit, as well as utilizing the concept of health promotion. While osteopathic education focuses on patient care, there has been a lack of attention placed onto student wellness and development. The WARM curriculum is responding to the shortcomings in the medical education with interrelated adjunctive learning opportunities to grow within the four aspects of WARM.
Dual Degrees/Concurrent Programs
Dual Degrees/Concurrent Programs Offered
DO/MPH
The Doctor of Osteopathic Medicine (DO)/Master of Public Health (MPH) Dual Degree at Touro University California trains students concurrently enrolled in the College of Osteopathic Medicine (COM ) to assume leadership roles in population-based care and to incorporate prevention in their clinical practices. The discipline of osteopathic medicine—with its traditional emphasis on treating the whole person, education, and prevention—is particularly well-suited to complement public health in its mission to improve knowledge and change behavior and environments on a large scale. Our dual degree curriculum is designed so that both degrees can be completed during the four-year medical school education window.
Premedical Coursework
Courses below are shown as either Recommended or Required and, when applicable, include the number of semester hours needed.
Science Courses
Biology/Zoology
Required
With Lab
8 semester hours
Chemistry (Inorganic)
Required
With Lab
8 semester hours
Chemistry (Organic)
Required
With Lab
8 semester hours
Physics
Required
With Lab
8 semester hours
Non-Science Courses
Behavioral Sciences
Required
4 semester hours
College English
Required
4 semester hours
Math/Statistics
Required
4 semester hours
Admissions
Candidates are screened several times during the admissions process. The first screening, which occurs when the AACOMAS application has been submitted, is designed to verify that candidates have satisfied our published minimum academic requirements. Subsequent screenings, which focus on more holistic criteria, are used to determine interview eligibility and, ultimately eligibility for acceptance into the program
Application Information
Earliest Application Submission Date: May 4, 2023
Primary Application Deadline: March 15, 2024
Submission Timing for Best Consideration
TUCOM operates on a rolling admissions cycle. Applicants are advised to apply early to secure the best possible chance of admission.
First Year Class Matriculant's Selection Factors
The Mission of the Touro University College of Osteopathic Medicine is to prepare students to become outstanding osteopathic physicians who uphold the values, philosophy and practice of osteopathic medicine and who are committed to primary care and the holistic approach to the patient. In addition to academic readiness, students are selected based upon their understanding of and commitment to osteopathic medicine, verbal and non-verbal communication skills, reasoned judgment, and fit-to-mission.
International Students Accepted? Does Not Accept International Students
Application Interview Format: See Below
TUCOM California employs a panel style, group interview format. Five to six candidates will be interviewed together by one clinician, one basic science faculty member, and one second-year medical student. Interviews are open file and will last approximately one hour. Interviewers have access to all materials submitted by the candidate at least five days prior to the interview.
Early Decision Program (EDP)
Admissions EDP Available For
Both In-state and Out-of-State
EDP Application Due Date
June 15, 2023
EDP Supplemental Materials Due
July 15, 2023
EDP Applicants Notified
September 12, 2023
EDP Applications Submitted To AACOMAS
Supplemental Application
Earliest Supplemental Application Submission Date: June 1, 2022
Supplemental Application Deadline: April 15, 2023
Supplemental Application Fee: $100
Supplemental Application Fee Refundable? No
Supplemental Application Fee Waiver Available? Yes
Fee waivers will be provided to any applicant who receives an AACOMAS application fee waiver. The process is not automatic. To request a fee waiver, applicants must forward a copy of their AACOMAS fee waiver email to
tuc.admit@touro.edu
.
Acceptances/Deposit Schedule
Earliest Acceptance Date
October 1, 2023
Latest Acceptance Date
August 1, 2024
Orientation/Start Date for First Year Students
August 1, 2023
Deferred Entrance Requests Considered? Yes
Acceptance response and deposit is required within two weeks of the date on the letter of acceptance.
MCAT/GPA Information
Avg. Cum. Undergrad GPA Score
3.49
Oldest MCAT Considered: January 1, 2020
Accept September 2023 MCAT Scores? Yes
Accept January 2024 MCAT Scores? Yes
Accepted Sources for Letters of Recommendation
AACOMAS
Interfolio
Paper
Email
Tuition, Fees & Financial Aid
The tuition and fees below are from the prior 2022-23 academic year and may have changed for this current application cycle. Please confirm the latest rates with the institution.
Tuition
Out-of-State Tuition
$60,930
Fees
Annual Fees
In-State Resident Fees
$450
Out-of-State Resident Fees
$450
Health Insurance Fee
$4,788
Tuition Fees Include
Technology (not computer)
Estimates, Deposits, and More
Estimated Annual Room Board, Books, and Living Costs
$20,160
Average Graduate Indebtedness
N/A
Acceptance Deposit
$2,000. Due within two weeks of the date on the letter of acceptance.
Additional Deposit
$1,000. Due prior to May 15th, 2024.
Deposit Applied to Tuition? Yes
Deposit Refundable? Yes
The acceptance deposit is not refundable. The tuition deposit is refundable provided withdrawal notification is received prior to the first day of mandatory orientation.
Financial Aid
Percent of Enrolled Students with Financial Aid 81%
Scholarships Offered? Yes
Annual Scholarship/Grant Per Student: N/A