Osteopathic Health Policy Fellowship Pilots Sessions for Medical Students
Published March 04, 2021
2021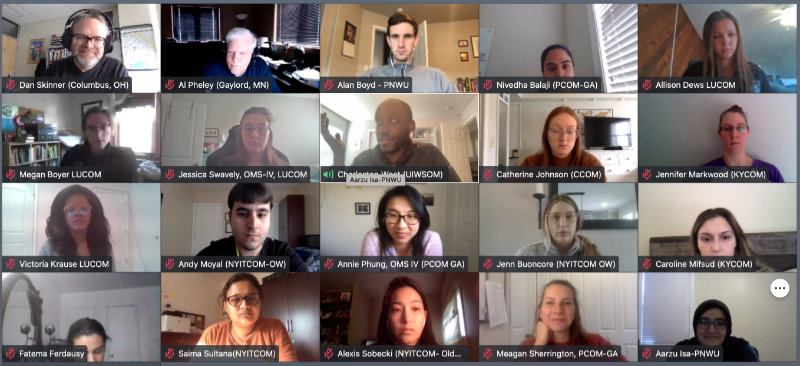 "In the midst of every crisis, lies great opportunity." Taking that lesson from Albert Einstein, the pandemic forced the AACOM Osteopathic Health Policy Fellowship (OHPF) to rethink its 26-year tradition of in-person programming. Co-Directors Dan Skinner, PhD, and Al Pheley PhD, decided to use the opportunity to expand the Fellowship's reach. On four Sundays in January and February, the co-directors hosted health policy discussions for two cohorts of undergraduate osteopathic medical students. The sessions were attended by about 50 students from ten colleges.
The sessions introduced students to some of the Fellowship's core tenets: "high ground" policy formulation and advocacy that keeps patients and populations in the foreground, the relationship between policy and politics, the importance of evidence and problems associated with bias, and building relationships with policy makers and influencers. The virtual meetings included an admixture of presentation and discussion, with the students using these new concepts to think and talk through a range of policy issues including debt forgiveness, climate change and funding of graduate medical education.
Alexandra Fountaine, OMS-I at Ohio University Heritage College of Osteopathic Medicine, Dublin campus, found the January sessions to be valuable in differentiating between stakeholder and patient advocacy. She notes, "The sessions helped me to acknowledge any personal biases I may hold when advocating for my patients in the future." Charleston Henry West, OMS-III at the University of the Incarnate Word School of Osteopathic Medicine in San Antonio, TX, said that the sessions helped him "to start looking at healthcare through a different lens," adding that "I learned there's more than one way to provide for my patients."
According to Catherine Johnson, OMS-I at Chicago College of Osteopathic Medicine of Midwestern University, "It was awesome to hear students from osteopathic medical schools all over the country speak to the problems facing their communities and start to work through solutions from the policy perspective. OHPF gave me the resources to continue educating myself on institution-specific, local, state and federal policy that will shape my future practice."
As the OHPF prepares for in-person sessions again in 2021-2022, plans also include engagement with undergraduate osteopathic medical students when Fellowship sessions are held on their campus. Engaging students is part of a larger vision that looks to create an integrated series of policy experiences spanning undergraduate medical education, residency, mid-career health professionals and alumni of the Fellowship. This vision is motivated by a key lesson from the pandemic, namely that the profession needs to be thinking in a more longitudinal manner and to seize upon windows of opportunity when conditions are ripe for principled policy change. By introducing health policy training earlier, students will be prepared to identify areas that need to be addressed and begin to think more concretely about what role they could play in policy formulation, analysis and advocacy. Such engagement could also be a thread that unites students across the country. As Fountaine adds, the sessions helped her to "make connections with students from other schools, all of whom I look forward to working with in the future."
The OHPF is currently seeking applicants to the 2021-2022 class. Learn more about the Fellowship, and how to apply.