Students Volunteer During Days of Service, Play Mini Golf and Make a Positive Impact on Local Groups
Published August 15, 2023
Campus Roundup Inside OME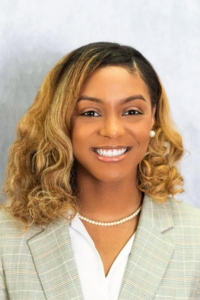 VCOM-Louisiana Student Appointed to SNMA Leadership Position
At the 2023 Student National Medical Association (SNMA) Annual Medical Education Conference (AMEC), Edward Via College of Osteopathic Medicine Louisiana Campus (VCOM-Louisiana) medical student Torhiana Haydel '24, MHA, was appointed health policy and legislative affairs co-chair. Haydel is a member of VCOM-Louisiana's inaugural class and has held multiple leadership roles including being a member of the Diversity, Equity and Inclusion Committee, SGA treasurer, campus and school ambassador and student of her clinical site. Read more about the AMEC and Haydel's background.
---
More than 200 WVSOM Students Volunteer Throughout Greenbrier County During Day of Service
At the beginning of each academic year, students at the West Virginia School of Osteopathic Medicine (WVSOM) learn the importance of community involvement as they assist local organizations in Greenbrier County during the school's Day of Service.
The annual event brings together first- and second-year students as well as faculty to provide physical labor to businesses and organizations. This year's event took place July 29, 2023, with more than 200 students, 15 faculty and five staff members volunteering at 15 sites.
Esabelle Gervasio, a second-year WVSOM student and the Student Government Association's T.O.U.C.H. coordinator for this academic year, said the Day of Service is a chance for new medical students to immediately get involved.
"This is an important event for WVSOM students to take part in because it's the first opportunity new students have to engage with the Lewisburg community," she said. "Second-year students and faculty provide a welcoming environment so the first-year students not only get to know the community in which they will live but other students and faculty at WVSOM as well."
---
Empowering Moms in Africa Helps to Build Stronger Bonds
Empowering moms can lead to better outcomes for families and communities. Taking what was learned in a 10-year National Institutes of Health (NIH)-sponsored research program in rural areas of Uganda that helped moms living with HIV in bonding with their children is now being applied in the Democratic Republic of the Congo (DRC), Africa, so moms there can help to prevent a permanent paralytic neurological disease in their children caused from toxic cassava.
Michael Boivin, PhD, MPH, faculty member of the Departments of Psychiatry and Neurology & Ophthalmology with the Michigan State University College of Osteopathic Medicine (MSUCOM), and his Congolese colleagues, are using the Mediational Intervention for Sensitizing Caregivers (MISC), a maternal training program originally developed by early child development experts at Bar Ilan University in Israel, to enhance development of very young children infected and affected by HIV exposure in a new way in the DRC. Read more about the project and the future impact of their work.
---
CCOM Welcomes New Class of Medical Students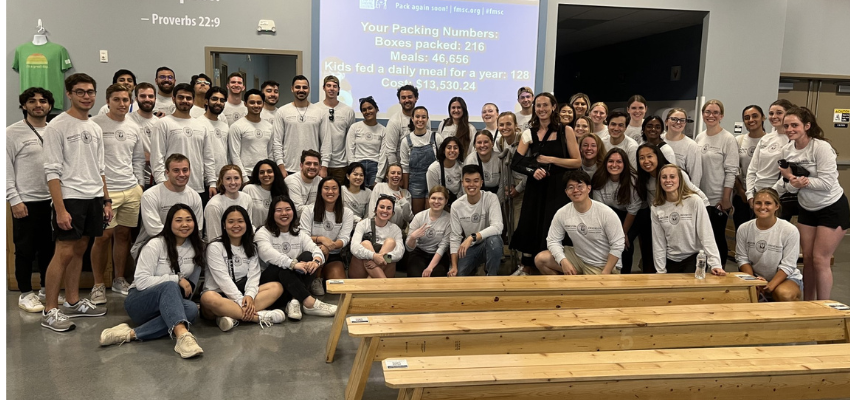 Photo: The CCOM Class of 2027 spent part of their new student orientation packing food for underprivileged children.
The Chicago College of Osteopathic Medicine at Midwestern University (CCOM) welcomed 201 first-year medical students as part of a new class on the Downers Grove Campus in August.
During their orientation activities, the aspiring physicians wasted no time in embracing Midwestern University's commitment to service. The entire class spent time at Feed My Starving Children in Aurora, Illinois, packing nutritious meals for underprivileged children across the globe.
The new class hails from 28 states and several countries with 42 percent of the students claiming Illinois as their home state. In addition, the class has slightly more female students (54 percent) and the average age is 24 with an age range of 20 to 43 years old.
"The Chicago College of Osteopathic Medicine is proud of our remarkable 123-year legacy and holds the position of the fourth oldest medical school in the State of Illinois," stated Thomas Boyle, DO, MBA, CCOM dean. "Throughout our illustrious history, our mission has remained steadfast—to nurture and educate the next generation of osteopathic physicians, instilling in them the values of compassion and excellence in healthcare provision. Furthermore, we are committed to fostering the practice of osteopathic medicine, championing lifelong learning, promoting pioneering research and encouraging a spirit of service to the community and beyond."
---
MUCOM Incoming Class Makes a Positive Impact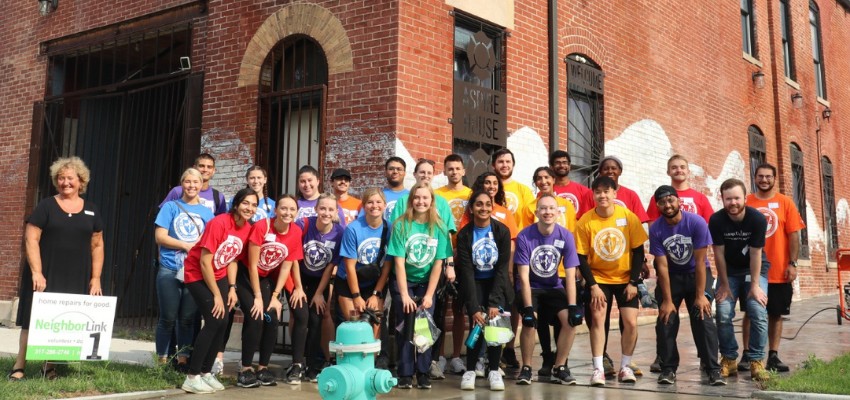 Making a positive impact from the beginning: Marian University College of Osteopathic Medicine (MUCOM)'s Class of 2027 demonstrated their commitment to the community with a Day of Service with NeighborLink Indianapolis during last week's orientation. One-hundred-and-sixty-five medical students rotated across eight sites around inner Indianapolis, Indiana, where they completed yard cleanup, demolition, painting projects and more. View more photos from the event and read more stories like this on MUCOM's Facebook.
---
VCOM-Virginia's AOASM Chapter Named Chapter of the Year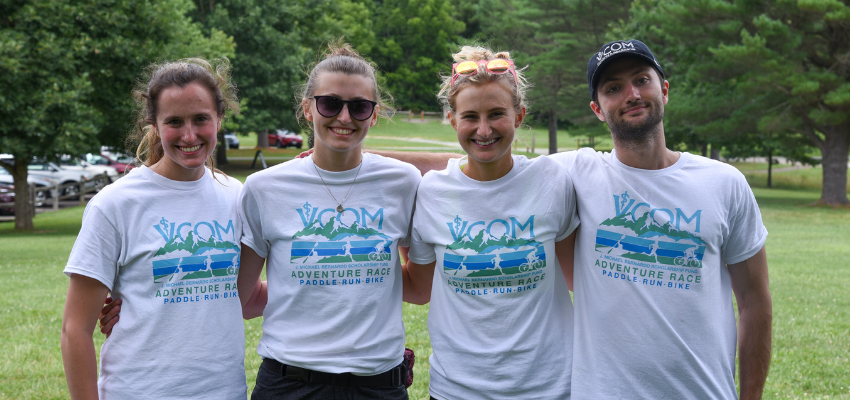 Photo: The executive board of VCOM-Virginia's student chapter of AOASM.
Edward Via College of Osteopathic Medicine Virginia Campus (VCOM-Virginia)'s student chapter of the American Osteopathic Academy of Sports Medicine (AOASM) has been named the Student Chapter of the Year for the 2022-2023 by the National AOASM board.
"Our board wanted to provide a variety of meaningful events for students and to see this recognized at the national level is awesome," says Megan Gordon '25, 2022-2023 AOASM president. The chapter hosted a wide range of events from the annual Adventure Race to skills workshops. "Our goal was to offer a variety of opportunities for students to get hands-on experience working with athletes and increasing their skills and to raise funds for our local community," says Gordon. View this story and more on VCOM-Virginia's Facebook.
---
VCOM-Auburn Enhances the Student Experience with Miniature Golf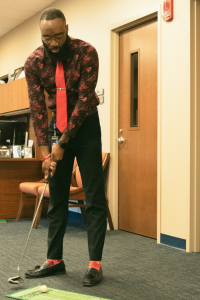 Photo: Adonis Bozeman, VCOM-Auburn's director for diversity, equity and inclusion, minority recruitment and admissions coordinator, demonstrates the campus's new miniature golf course.
Edward Via College of Osteopathic Medicine Auburn Campus (VCOM-Auburn)'s Student Affairs Department is helping to redefine its student experience by converting office space into a miniature golf course. This innovative use of space provides students with a study respite and gives them a chance to connect with one another. This innovative integration of leisure into the medical school journey underscores VCOM-Auburn's commitment to student well-being. View more photos and stories like this on VCOM-Auburn's Facebook.