Students Assist America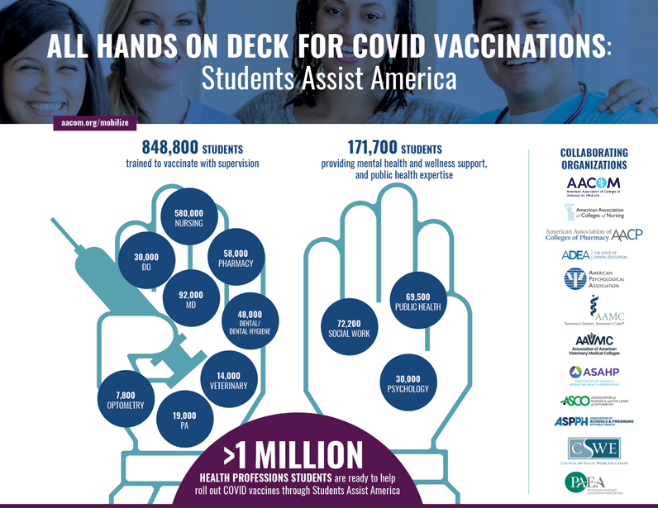 Mobilizing the Future Healthcare Workforce
For more than two years, the United States was in crisis due to the continued spread of COVID-19. One of the areas of vulnerability in the public health infrastructure became clear: an overwhelmed healthcare workforce could not manage the complex vaccine distribution challenges on its own. We needed to adopt an all-hands-on-deck approach – as quickly as possible - and Students Assist America answered that call.
An Interprofessional Approach
Students Assist America (SAA), an interprofessional initiative of 12 associations spearheaded by the American Association of Colleges of Osteopathic Medicine, is asked federal and state leaders to give hundreds of thousands of students the opportunity to help vaccinate the public and assist with the related tasks necessary for an effective and efficient vaccine roll out. After months of advocacy, SAA was able to work with policymakers to do just that.
By changing regulatory language and capturing the attention of the White House, future physicians, physician assistants, nurses, social workers, veterinarians, dental professionals, public health experts, optometrists, pharmacists and psychologists joined together as an interdisciplinary safety net to ensure that the weight of the COVID-19 emergency did not crush the daily operations of the healthcare system and put individuals and communities at further risk.

To this day, health professions students continue to serve their communities by helping to provide COVID-19 and other vaccines as part of a public health emergency response. Though formal SAA activities are dormant, this group's work is now a permanent part of the nation's response arsenal in times of crisis.
Providing Relief, Ensuring Safety
As they have for many years when participating in flu vaccination efforts, students providing COVID vaccines are supervised by licensed professionals and are given all necessary PPE to ensure their safety. SAA also advocated for students to receive the COVID vaccine along with all healthcare providers working on the frontlines.
The goal of Students Assist America was two-fold:
Create meaningful opportunities for students with valuable skills and knowledge to help during this pandemic
Enable students to continue moving forward on their educational path while traditional methods of learning are disrupted
Osteopathic Medical Students on the Frontlines of the COVID-19 Pandemic
Osteopathic medical students across the nation have been helping with vaccination efforts during the COVID-19 pandemic. Read stories about how these students have set up vaccination clinics, provided life-saving vaccines, served their local communities and more.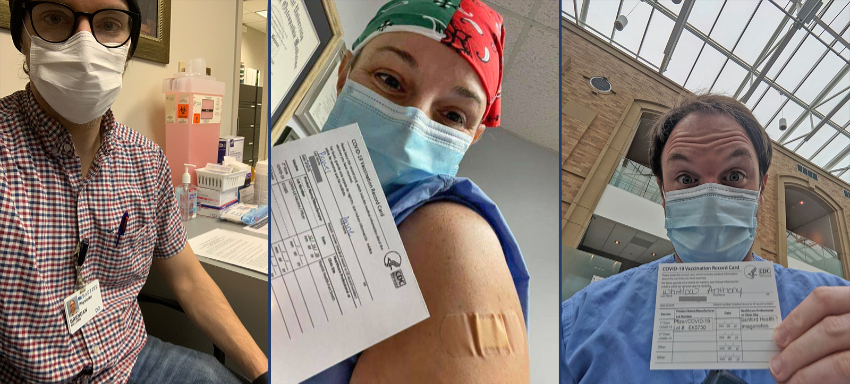 SAA Companion Bill Introduced in U.S. House of Representatives to Permanently Allow Students to Vaccinate (Oct. 22, 2021)
SAA Bill SAA Bill Introduced in U.S. Senate to Permanently Allow Students to Vaccinate in U.S. Senate to Permanently Allow Students to Vaccinate (June 17, 2021)
SAA Salutes White House Recognition of Student Vaccinators (Mar. 12, 2021)
SAA Statement to the National Vaccine Advisory Committee (Feb. 4, 2021)
SAA Letter to HHS on SAA Letter to HHS on PREP Act declaration Act declaration (Jan. 27, 2021)
SAA Statement to the National Vaccine Advisory Committee (Dec. 4, 2020)
Dr. Robert Cain addresses the National Academies of Sciences, Engineering, and Medicine (Dec. 3, 2020)
SAA letter to the Biden Harris COVID Task Force (Nov. 19, 2020)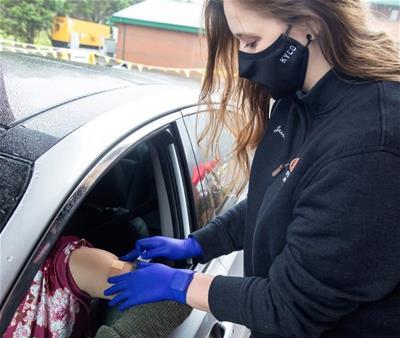 Case Study: Students Assist America Partnerships
Virginia Medical Reserve Corps
I started volunteering with MRC in 2018 as a new student of public health, and they make it very easy. They are very organized. After COVID, it has exceeded my expectations and I love working with students from other health fields.

Sarah Work, Virginia Tech MPH Graduate 2020
This flagship approach was initially launched in Virginia through a partnership between Students Assist America and the Virginia Medical Reserve Corps. Responding to the request by former Governor Ralph Northam to bring students into the fight against the pandemic, academic institutions across the state are working to ensure their students have the opportunity to help their communities now, during future vaccination efforts and well into the future once the COVID-19 crisis has passed.

A similar model is operating now in Arizona and more states are coming on board.
Connect with Students Assist America
For more information on the Students Assist America mobilization effort, please contact Virginia Bader at the American Association of Colleges of Osteopathic Medicine at vbader@aacom.org.
It's great to have a vaccine, but vaccines don't save lives: vaccinations save lives. And that means you've got to get that vaccine into people's arms all over this country. It's a giant logistical project.

Ron Klain, Chief of Staff to President-elect Joe Biden
Nov. 15, 2020
Collaborating Organizations