I Chose DO, Dermatology Chose Me
Published August 10, 2020
Choose DO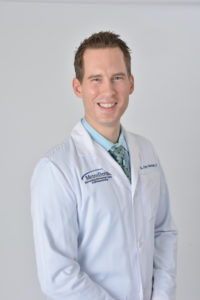 Trey Haunson, DO, MS, FAOCD, FAAD, loves his career. As the first DO to join his dermatology practice, he takes pride in representing the burgeoning community of DO physicians in Georgia. He often mentors pre-medical students, and serves as elective rotation faculty for dermatology residents at the Philadelphia College of Osteopathic Medicine (PCOM)/North Fulton Hospital residency program in Roswell. We spoke with him recently about his career in medicine, what he likes most about his state's osteopathic community, and advice he would give to pre-med students today.
How did you get started at PCOM/North Fulton?
Soon after moving back to Georgia to start practicing dermatology after completing my residency training, I was contacted by Marcus Goodman, DO, who is the program director for the PCOM/North Fulton Hospital dermatology residency program. Since that time I have served on faculty assisting in training dermatology residents on elective rotations and attending journal club meetings. It has truly been a pleasure mentoring to budding young dermatologists and watching them mature in their training. I recommend that all practicing physicians be involved in shaping the future of their specialty in some form or fashion. Not only is it rewarding to pass on what I have learned, it also helps me keep up to date with current best practices in diagnosis and treatment.
What's your favorite thing about your job as a dermatologist?
My favorite aspect of practicing medical dermatology has to be the amazing medications we have at our disposal and the dramatic results they can have, not just in the skin but on the patient's overall well-being. I was initially attracted to the field of dermatology based on my own experience years ago as an acne patient and the life-changing results of isotretinoin (Accutane), which was and still is the most effective treatment for acne. Since that time we have continued to study the intricacies of the immune system.
Ongoing research has resulted in the creation of immunoglobulin-based medications that target specific molecular signaling pathways, enabling us to treat chronic and debilitating conditions such as psoriasis and atopic dermatitis safely and effectively. Prior to this, there were no safe and effective long-term treatment options.
When a patient's itching subsides, when their rash clears, when their acne resolves, they get more than just clear skin. They also have less anxiety, greater self-esteem, lower incidence of depression, and greater ability to concentrate at school or work with fewer missed days and greater productivity. I have walked with many patients through these conditions, and guiding them to the light at the end of the tunnel always renews my passion for what I do.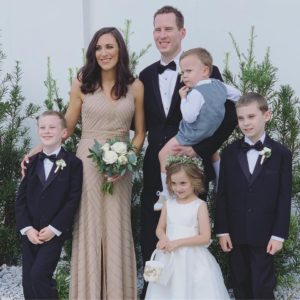 What would you say to pre-med students who are just starting to enter their profession?
When I was a pre-med student applying to medical schools, I did not have an abundance of guidance or mentorship. I was the first in my family to pursue a career in medicine. Obviously good grades and MCAT scores are important. However, this is not enough, as most medical school applicants will be good students and test-takers. Yes, you should have these things to make the cut, but you need something beyond that in order to stand out both on paper and in the interview room.
Admissions committees want to see a commitment to the rigorous training ahead, and it is also helpful to highlight something unique about you as an individual, relating to your specific background, experience, gifts or talents. It never hurts to have exposure to different areas of medicine through shadowing, volunteer work or research. Not only does this showcase your commitment to learning and your chosen career path, but it will also help you in narrowing down which particular field of medicine would be the best fit for you.
Be willing to volunteer your time without expecting pay, but in order to gain experience and opportunities that will help you to stand out as an applicant. Be committed to your goal, but also don't be afraid of rejection. Apply broadly and don't be picky until the acceptance letters start coming in. Submit application materials as soon as possible; do not wait until close to a deadline. At interviews, be courteous and jovial to everyone you meet there, as they all may potentially have an influence in your acceptance. Be sure to have questions to ask them as well; remember you are interviewing the program just as much as they are interviewing you. Always be grateful for every opportunity, and a simple thank-you card in the mail can never hurt either.
In many ways, getting accepted into medical school can be the most daunting part of your journey, even though it is only the beginning. However, in retrospect it makes your success that much more rewarding knowing how hard you worked for it.