Alabama College of Osteopathic Medicine - ACOM
Dothan, Alabama
Primary Campus
Overview
Curricular
Premedical Coursework
Admissions
Tuition, Fees & Financial Aid
Apply Now
General Information
The Alabama College of Osteopathic Medicine (ACOM), established to help address the physician workforce shortage in the state of Alabama and surrounding region, is Alabama's first osteopathic medical school and the academic division of a regional facility, Southeast Health.

Mission Statement
ACOM's mission is to provide quality, learner-centered osteopathic education, research, and service, while promoting graduate medical education, with emphasis on patient-centered, team-based primary care to serve the medically underserved areas of Alabama, the Tri-State area, and the nation.
Admissions Processes During the Pandemic
Interview Options: Virtual or In-Person
Physician letter required? MD or DO
Virtual Shadowing Options? Virtual or In-Person Accepted
Accepts online coursework to fulfill prerequisite requirements? Yes
Accepts prerequisite coursework pass/fail grades? Yes
Will your institution waive MCAT exam requirements? No
Accepts online lab coursework? Yes
Facilities
Closest City Dothan, Alabama
Campus Setting
Suburban
Facilities
The ACOM campus is designed to provide the full student experience with a 110,000-square-foot facility equipped with research and team-based learning centers, as well as a stand-alone 10,000 -square-foot simulation center. The college also features large anatomy and osteopathic principles and practice labs, a 16-room performance exam suite, a primarily electronic library, numerous study group rooms and a bistro with accompanying student lounge.
The 200-acre campus includes a wooded walking trail, outdoor pavilion and garden, outdoor fitness area, large green spaces and a paved walking/biking path to local shops and restaurants. In addition to the main campus facility, ACOM has a rural primary care clinic a few miles from the campus, where students train with clinical faculty.
Student Residence Options
ACOM is partnered with Corvias Campus Living to provide on-campus housing options for students. Summerfield Square, an apartment-style community, offers studio, one- and two-bedroom apartments with private bathrooms, ample storage, and spacious floor plans, with amenities including a clubhouse with a fitness center, pool, and fire pit. In addition, Dothan provides an array of affordable housing opportunities for ACOM students within a short distance of the college. Private apartment and townhome complexes with amenities desirable to students and young professionals are conveniently located throughout the area and in neighboring communities.
Accreditation & Affiliation
COM Accreditation Status The Alabama College of Osteopathic Medicine (ACOM) is accredited by the Commission on Osteopathic College Accreditation (COCA). ACOM graduated its inaugural class in May 2017 and obtained full accreditation at that time.
Institutional Affiliation ACOM is an academic division of Southeast Health, a regional health system, located in Dothan, AL.
Student Demographics
Academic Year Enrollment
Total Medical School Enrollment
760
Total Enrollment Affiliate Institutions
760
First-Year Matriculants
207
First-Year Male Matriculants
89
First-Year Female Matriculants
118
Matriculants Out-of-State
184
Self-Reported Race/Ethnicity
American Indian/Alaska Native
0.0%
Black/African American
3.4%
Native Hawaiian/Pacific Islander
0.0%
Majors of First-Year Matriculants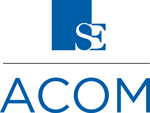 Overview
ACOM is an academic division of Southeast Health, a regional health system, located in Dothan, AL.
Institutional Affiliation
Main Contact
Alabama College of Osteopathic Medicine - ACOM
445 Health Sciences Boulevard, Dothan, Alabama 36303
Address
Admissions Office
Curricular Offerings
Pre-clinical curriculum is delivered through a hybrid, discipline- and system-based model. In the first semester, students are presented core concepts in a discipline-based manner, including basic foundational sciences and anatomy with cadaver dissection.
Further pre-clinical instruction utilizes a system-based format, concentrating on clinical integration with a patient-centered focus. This is complemented by longitudinal instruction in osteopathic principles and practice (OPP), team-based learning activities, simulation and early standardized patient encounters.
Students participate in additional patient encounters through the Southeast Health ACOM Ashford Clinic. Third- and fourth-year clinical curriculum is delivered at community-based hospitals and clinics utilizing an extensive network of physicians throughout Alabama, Florida and Mississippi. ACOM offers two fellowship programs, one focusing on anatomy and OPP, and the other centered on clinical simulation.
Preparatory Programs
Preparatory/Postbaccalaurete Programs Offered
Basic Science Boot Camp
ACOM is offering an optional four-week intensive Basic Science Boot Camp for interested incoming first-year students. The boot camp is designed for students who want to gain early exposure to Medical Gross Anatomy and Molecular Medicine. The session meets from 8:30 am – 4:00 pm Monday through Friday on the ACOM campus.
The first three weeks will focus on anatomy and the fourth week will focus on molecular medicine and physiology. This is an optional boot camp, so while any quizzes will be graded and returned to students, the grades will not be recorded. The boot camp is strictly designed for participants to enhance their skills and knowledge, and as such, is not part of their academic record. https://www.acom.edu/basicsciencebootcamp/
Special Programs
Anatomy and Osteopathic Principles & Practice Fellowship Program
The Anatomy/OPP Fellowship Program through the Departments of Anatomy and Osteopathic Manipulative Medicine is designed to expand the educational opportunities for selected students with guided learning experiences in the areas of medical education, research, Osteopathic Principles and Practices, and Anatomy while they assist in all phases of the departments' operations. An important emphasis of the Fellowship program is to formally train the students in medical education and begin a journey to achieve master's level experience and preparation to become excellent teachers and faculty.

Clinical Simulation Fellowship Program
The Clinical Simulation Fellowship is designed to expand the educational opportunities for selected students with guided learning experiences in the areas of medical education, research, and Clinical Simulation while they assist in all phases of the ACOM Division of Clinical Sciences' operation. An important emphasis of the Fellows program is to formally train the student in medical education and begin a journey to achieve master's level experience and preparation to become excellent teachers and faculty.
Dual Degrees/Concurrent Programs
Dual Degrees/Concurrent Programs Offered
DO/MBA
Concurrent Degree Program with Troy University Dothan
DO/MPH
Concurrent Degree Program with Samford University
DO/MSM
Concurrent Degree Program with Troy University Dothan to obtain a Master of Science in Management, specializing in Leadership
DO/MSADE
Concurrent Degree Program with Troy University for ACOM Student Fellows to obtain the Master of Science in Adult Education (Non-Certification Program). Only offered to students accepted into the ACOM Anatomy/OPP Fellowship or Simulation Fellowship
Premedical Coursework
Courses below are shown as either Recommended or Required and, when applicable, include the number of semester hours needed.
Science Courses
Biology/Zoology
Required
With Lab
8 semester hours
Chemistry (Inorganic)
Required
With Lab
8 semester hours
Chemistry (Organic)
Required
With Lab
8 semester hours
Physics
Required
With Lab
8 semester hours
Non-Science Courses
Behavioral Sciences
Recommended
College English
Required
6 semester hours
Math/Statistics
Recommended
Admissions
Admission to ACOM is competitive and selective. Any undergraduate major is acceptable, as long as prerequisites are passed and taken for credit at an accredited college or university. Completed applications are reviewed by the admissions staff to evaluate a candidate's academic ability, knowledge of and commitment to the tenets of osteopathic medicine, experience in health care and human services, community service, professionalism, communication skills, and personal integrity.
The Admissions team reviews all verified applications and students who meet our admissions criteria will be asked to submit a supplemental application with supporting materials. An application is considered complete once all of the required documents have been received. Completed applications are reviewed using standards set by the Admissions Committee.
The review process usually takes a few weeks. The Director of Admissions will send invitations to students who qualify for an on-campus or Zoom interview based on the standards. ACOM does not discriminate on the basis of age, race, color, sex, gender, gender identity, sexual orientation, religion or creed, national or ethnic origin, or disability in its programs, activities, hiring, or the admission of students.
Application Information
Primary Application Service: AACOMAS
Earliest Application Submission Date: May 4, 2023
Primary Application Deadline: March 1, 2024
Submission Timing for Best Consideration
For best consideration, applicants should submit their AACOMAS application at least four weeks prior to the deadline.
First Year Class Matriculant's Selection Factors
The major criteria for rating applicants are academic and non-academic achievements. Academic assessments include: Medical College Admissions Test (MCAT) scores, grades and Grade Point Averages (GPA). Personal characteristics include: the applicant's ability and desire to fulfill the college's commitment to the primary care and underserved needs of Alabama and the region, personal experiences with patient populations, physician shadowing, community/volunteer service, leadership positions and honors received. Letters of recommendation play a major role in the assessment of applicants.
International Students Accepted? Does Not Accept International Students
Application Interview Format: See Below
The interview agenda consists of a full-day program with college and curriculum overviews, one 30-minute open-file interview with two ACOM faculty/staff members. Candidates will have the opportunity to meet with ACOM students on the interview day. Applicant interviews are held from August through April.
Early Decision Program (EDP)
EDP Applications Submitted To AACOMAS
Supplemental Application
Supplemental Application Required? Yes
Verified primary applications are screened for minimum academic requirements. Selected applicants will receive an email with a link to complete an online supplemental (secondary) application. Three (3) required essays are part of the supplemental application. A $50 non-refundable supplemental application fee is required.
Earliest Supplemental Application Submission Date: June 1, 2023
Supplemental Application Deadline: April 15, 2024
Supplemental Application Sent To: Screened Applicants
Supplemental applications are sent to qualifying applicants based on minimum GPA and MCAT score.
Supplemental Application Fee: $50
Supplemental Application Fee Refundable? No
Supplemental Application Fee Waiver Available? Yes
Students receiving AACOMAS waiver are automatically eligible for ACOM waiver.
Acceptances/Deposit Schedule
Earliest Acceptance Date
July 1, 2023
Latest Acceptance Date
July 15, 2024
Orientation/Start Date for First Year Students
July 22, 2024
Deferred Entrance Requests Considered? Yes
Deferred entrance may be requested by contacting the admissions department with specific circumstances to be considered.
Acceptance/deposit deadlines conform to the AACOMAS Traffic Guidelines Schedule? Yes
Submitting the deposit within the relevant dates listed below indicates acceptance:
Applicants will be requested to submit necessary matriculation documents, including a deposit, according to the following AACOMAS traffic guideline schedule:
Those accepted prior to November 15 will have until December 14
Those accepted between November 15 and January 14 will have 30 days
Those accepted between January 15 and April 30 will have 14 days.
Those accepted on or after May 1 may be asked for an immediate deposit.
After May 1 of the year of matriculation, each medical college may implement college-specific procedures for accepted students who hold one or more seats at other medical colleges.
MCAT/GPA Information
Avg. Cum. Undergrad GPA Score
3.47
Oldest MCAT Considered: July 31, 2018
Accept September 2023 MCAT Scores? Yes
Accept January 2024 MCAT Scores? Yes
Accepted Sources for Letters of Recommendation
Tuition, Fees & Financial Aid
The tuition and fees below are from the prior 2022-23 academic year and may have changed for this current application cycle. Please confirm the latest rates with the institution.
Tuition
Out-of-State Tuition
$57,658
Fees
Annual Fees
In-State Resident Fees
$250
Out-of-State Resident Fees
$250
Health Insurance Fee
$3,036
Tuition Fees Include
Technology (not computer)
Estimates, Deposits, and More
Estimated Annual Room Board, Books, and Living Costs
$29,480
Average Graduate Indebtedness
$299,020
Acceptance Deposit
$2,000
Deposit Applied to Tuition? Yes
Financial Aid
Percent of Enrolled Students with Financial Aid 80.10%
Scholarships Offered? Yes
Annual Scholarship/Grant Per Student: $65,658