Touro College of Osteopathic Medicine - TouroCOM
New York, New York
Primary Campus
Middletown, New York Great Falls, Montana
Additional Locations
Overview
Curricular
Premedical Coursework
Admissions
Tuition, Fees & Financial Aid
Apply Now
General Information
The Touro College of Osteopathic Medicine (TouroCOM) is committed to increasing the number of underrepresented minorities in medicine and to training physicians who are committed to practicing in underserved communities At TouroCOM, technological innovation meets social responsibility, and a cutting-edge curriculum goes hand-in-hand with community outreach.
One School, Three Locations
Harlem, NY
Middletown, NY, and
Touro's Newest Location – Great Falls, Montana
Since opening our doors in 2007, the TouroCOM has been attracting students and training physicians who are committed to helping their patients and the medical profession. TouroCOM is equally committed to working to correct diversity disparities in our health care delivery system, so physicians can best meet patient needs.
Our medical curriculum is one of the first of its kind to take full advantage of today's medical and classroom technologies. Ours is a flipped classroom that allows students to learn the material at home and for professors to track the students' grasp of the material in class. Better assessment means better outcomes, and our graduates find residencies and placements at top hospitals across the country.
Mission Statement
The Touro College of Osteopathic Medicine is committed to training osteopathic physicians, with a particular emphasis on practicing medicine in underserved communities, and to increasing the number of underrepresented minorities in medicine. We value and support public service, research, graduate medical education, and osteopathic clinical service in the community that will strive to improve health outcomes for those we serve. We will work to educate students through the use of the latest innovative education techniques using summative and formative measures so as to graduate qualified osteopathic physicians.
Admissions Processes During the Pandemic
Interview Options: Virtual
Physician letter required? MD or DO
Virtual Shadowing Options? In-Person Only
Accepts online coursework to fulfill prerequisite requirements? Yes
Accepts prerequisite coursework pass/fail grades? Yes
Only if the course was taken during a COVID semester where P/F was the only option.
Will your institution waive MCAT exam requirements? No
Accepts online lab coursework? Yes
Facilities
Closest City New York, NY (urban setting); Billings, MT (rural setting)
Campus Setting
Urban
Facilities
The Harlem Campus medical school buildings are across the street from the famous Apollo Theatre in central Harlem
The Middletown Campus is located in the city of Middletown, NY, 60 miles from New York City in New York's Hudson Valley Region
The Montana Campus will open in 2023 and is located in Great Falls, Montana, in the central part of the state. Conveniently located between Glacier and Yellowstone National Parks, Great Falls is a wonderful place to call home, as you pursue your medical journey and begin to explore the healthcare needs of the region.
All TouroCOM Campuses:
Lecture halls and classrooms are equipped to accommodate laptop computers, with wireless internet access available throughout the building. Professors present at "smart podiums" accommodating any electronic format.
The Osteopathic Manipulative Medicine (OMM) labs have hydraulic tables and Striker Cameras that enhance the learning experience.
There are breakout rooms adjacent to the amphitheaters for student study.
Anatomy labs at all campuses are temperature controlled with frequent air exchange.
Each campus has a state-of-the-art library facility with extensive electronic offerings that are not publicly available.
Clinical Rotation Sites:
Clinical sites for the New York campuses are located throughout the NYC metropolitan area and upstate New York, New Jersey, and Connecticut.
Montana's clinical sites are located in Great Falls and neighboring communities, as well as in neighboring states.
Student Residence Options
In Harlem, housing is not provided, but rental housing is available throughout the area with easy access by train, bus, or subway.
The Middletown Campus has on site dormitories as well as off-campus rental options.
In Great Falls, housing is not provided, but off-campus apartments and home rentals are available. New construction apartments are located directly adjacent to the campus. There are many off-campus housing options available within a fifteen-minute drive. There is also on-campus parking available.
Accreditation & Affiliation
COM Accreditation Status The Touro College of Osteopathic Medicine (TouroCOM) is fully accredited by the Commission on Osteopathic College Accreditation (COCA) of the American Osteopathic Association (AOA)
The AOA is located at 142 East Ontario Street, Chicago, IL 60611 (Tel: 312-202-8124). As of September 15, 2022, the COCA voted to approve the additional location of TouroCOM in Great Falls, Montana to recruit students for an incoming class of Fall 2023.
Touro College of Osteopathic Medicine is a division of Touro University, which is accredited by the Middle States Commission on Higher Education (MSCHE), 1007 N. Orange Street, MB #166 Wilmington, DE 19801, (267) 284-5011
Institutional Affiliation TouroCOM is a division of Touro University.
Student Demographics
Academic Year Enrollment
Total Medical School Enrollment
1,055
Total Enrollment Affiliate Institutions
19,000
First-Year Matriculants
212
First-Year Male Matriculants
88
First-Year Female Matriculants
124
Matriculants Out-of-State
124
Self-Reported Race/Ethnicity
American Indian/Alaska Native
0.0%
Black/African American
6.6%
Native Hawaiian/Pacific Islander
0.0%
Majors of First-Year Matriculants
Additional Locations
Additional Locations
TouroCOM Middletown campus - TouroCOM Middletown
Affiliation TouroCOM, TouroCOM Montana and Touro University
Address 60 Prospect Avenue, Middletown, New York 10940
Website https://tourocom.touro.edu/
Phone (845) 648-1110
TouroCOM Montana - TouroCOM MT
Affiliation TouroCOM, TouroCOM Middletown Campus and Touro University
Address 2801 18th Avenue, South, Great Falls, Montana 58405
Website https://tourocom.touro.edu/
Phone (406) 401-8100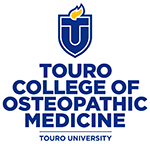 Overview
TouroCOM is a division of Touro University.
Institutional Affiliation
Main Contact
Touro College of Osteopathic Medicine - TouroCOM
230 West 125th St, Suite 434, New York, New York 10027
Address
Admissions Office
(212) 851-1199 ext. 42588
Phone
Curricular Offerings
TouroCOM's pre-clinical curriculum uses an innovative flipped classroom model that emphasizes independent discovery of information and reserves valuable classroom time for clinical case discussion, application questions and peer-peer teaching activities. Early clinical exposures and health policy lectures are used to enhance the classroom curriculum.
Preparatory Programs
Preparatory/Postbaccalaurete Programs Offered
Master of Science Program in Interdisciplinary Studies in Biological and Physical Sciences
This is a full-time, one-year program offered by Touro University System. The program provides students that are interested in becoming physicians an opportunity to prepare themselves for the academic rigors of medical school by immersing them into a biomedical curriculum that includes clinical anatomy, physiology, biochemistry, immunology, neuroanatomy and histology.
Students that are interested in dentistry, pharmacy, podiatry, and PhD programs can also strengthen their foundation in these core biomedical sciences through this program. Faculty teach using an innovative flipped classroom model that emphasizes independent discovery of information and reserves valuable classroom time for clinical case discussion, application questions and peer-peer teaching activities.
Graduates of the MS program have the opportunity to directly matriculate as first year osteopathic medical students the following year contingent upon meeting the following requirements: completion of the MS curriculum, achieving a final MS program GPA of 3.450/4.0 or higher and achieving a passing grade on the Comprehensive Examination. Typically, 30 – 35 students from each campus are offered direct matriculation to TouroCOM DO programs after meeting these requirements.
TouroCOM-Harlem MS Program Email: masters.tourocom@touro.edu
TouroCOM-Middletown MS Program Email: masters.tourocom-mid@touro.edu
TouroCOM-Montana MS Program Email: masters.tourocom-Montana@touro.edu
Summer Anatomy Course (non-credit)
Summer Anatomy is a four-week course that is taught by TouroCOM faculty. The course covers anatomic terminology and teaches Anatomy by regions. By the end of the course you will have a sound foundation of Anatomy. The course will also provide you with study techniques and teach you how to answer multiple choice questions.
The course includes a lab component with demonstration of prosected cadavers and dissecting techniques. Each student receives a certificate at the end of the four weeks. There are weekly quizzes that will not be graded, but are administered to give you an idea of where you stand with understanding the material that is being presented.
Summer Histology Course (non-credit)
Histology is the study of the microscopic anatomy of cells, tissues and organs. In this four-week course, the student will understand the microanatomy of the fundamental tissues of the human body and correlate structure with function. The student's mastery of the course material is essential for future basic science training.
The course is equivalent to the introductory course taken by first-year medical students across the United States and also provides excellent initial preparation for mastering shelf examinations in cell biology and histology examinations. The first half of the course covers the microanatomy of the cell including membranes, cytoplasmic organelles, intracellular trafficking, the nucleus, the genome, cell division and cell cycle.
In the second half the microanatomy and biology of epithelium, connective tissue (including blood and hemopoiesis) muscle, nerve tissue, cartilage and bone are covered. Lectures are presented in a fact-based format and supported with laboratory exercises designed to demonstrate an understanding of the ideas and concepts delivered in lecture. The course includes lectures, small group discussions, and laboratory sessions that involve hands-on light microscopy and glass slides, as well as the use of digital/virtual images.
You will receive a participation certificate at the end of the four weeks. Offered in parallel with the Summer Anatomy Program, it brings the perfect integration between gross anatomy and microanatomy.
Summer Embryology Course (non-credit)
Embryology is the study of formation, development and growth of a living organism. In this one-week course the student will understand the major aspects of human development. We will study the process of development from the moment of conception up to the moment of birth.
While studying the transitional events that will take us from single-celled organism to growing fetus, we will examine the formation of some of the major systems in the body. In addition, you will be introduced to some common, and uncommon, birth defects which will provide you with an understanding of what happens when developmental missteps occur. The student's mastery of the course material is essential for future basic science training.
The first series of lectures deal with the pre-fetal periods of development. We will discuss formation of the gastrula, blastula, morula, and the embryo. You will understand the formation of the embryonic germ layers and their adult derivatives. Following implantation, we will discuss the formation of the extra embryonic membranes, formation of the placenta, and we will discuss the transition from growing embryo to developing fetus.
Finally, we will examine the formation of some of the major body systems of the human fetus. Not all body systems will be discussed (because of time constraints) but the material presented in this course will serve as a solid foundation for your medical embryology course as well as other basic sciences courses (e.g., Histology, Neuroscience, & Gross Anatomy). Course material will be presented on a fact-based lecture format and student participation on all topics is highly encouraged.
Special Programs
East Harlem Tutorial Program (EHTP)
The EHTP pairs TouroCOM student mentors with high school students from East Harlem to help them with their science comprehension and skills. Informational sessions for interested tutors are held early in the Fall Semester.
Med-Achieve
Med-Achieve is an after-school medical science enrichment program serving high school students who are interested in pursuing a career in medicine. It is currently available in the Harlem and Middletown communities and will be available in Great Falls, Montana.
Throughout each program year, the Med-Achieve high school students receive medically focused lectures and interactive laboratory sessions. Each of the Med-Achieve students is partnered with a medical student currently enrolled at TouroCOM who works with them throughout the program and helps guide them in their current and future academic and career goals.
NEW! Medical Scientist Training Program – TouroCOM-Montana
TouroCOM-Montana has partnered with the McLaughlin Research Institute (MRI), in Great Falls, which focuses on translational science in medicine including neurogenetics on Alzheimer's, Parkinson's, and other degenerative nerve diseases.
MRI will serve as a training ground for future physicians and scientists. The Medical Scientist Training Program is available for selected students who wish to pursue a D.O. career in research. Program includes a research stipend, plus 2-year tuition allocation included.
Mentoring In Medicine
Mentoring In Medicine (MIM) is a nonprofit organization whose goal is to create a seamless system of mentorship, academic enrichment, leadership development and civic engagement for underrepresented minority youth.
MIM was created by minority physicians passionate about addressing health care disparities and igniting an interest in health and science in our youth. Mentoring in Medicine helps students create a strategic plan for graduation from health professional and advanced science training.
Warming Station
The Warming Station in Middletown provides a warm and safe environment for homeless adults living on the streets in Middletown. Students are encouraged to volunteer overnight to help supervise Middletown homeless men and women who have been screened for suitability.
Premedical Coursework
Courses below are shown as either Recommended or Required and, when applicable, include the number of semester hours needed.
Science Courses
Biology/Zoology
Required
8 semester hours
Chemistry (Inorganic)
Required
8 semester hours
Chemistry (Organic)
Required
7 semester hours
Physics
Required
8 semester hours
Non-Science Courses
Behavioral Sciences
Required
3 semester hours
College English
Recommended
6 semester hours (Required if the BA/BS was not completed in English.)
Math/Statistics
Required
3 semester hours (and/or Computer Science)
Admissions
TouroCOM begins to review applications in late August. After review of the applicant's AACOMAS application, qualified candidates will be invited to complete a supplemental application. Once the supplemental application has been submitted, the admissions office will contact qualified candidates to schedule an interview.
The Interview Process
We invite selected applicants to visit the campus identified in the supplemental application for an informational presentation and a formal interview. Campus visits and interviews are conducted on a rolling basis from October through May. The Director of Admissions or a student affairs representative will lead a tour of the medical school facilities, and provide some historical background about TouroCOM and our parent institution, Touro University. We will also provide details about Harlem, Middletown or Great Falls communities as well as housing options. During the interview, candidates will meet with several faculty members. Interviewers' feedback is considered alongside an applicants' academic credentials in the selection process. An interview does not guarantee acceptance.
Acceptance to TouroCOM
The Admissions Committee submits their final recommendations for acceptance to the Dean of the college, who reserves the authority to approve all applications. TouroCOM usually notifies candidates of decisions within two months of the formal interview, and makes every effort to notify wait-listed candidates as soon as possible.
Application Information
Earliest Application Submission Date: May 4, 2023
Primary Application Deadline: March 1, 2024
Submission Timing for Best Consideration
For best consideration, applicants should submit their AACOMAS application at least two months prior to the deadline.
First Year Class Matriculant's Selection Factors
The applicant applying to TouroCOM must have earned a bachelor's degree prior to potential matriculation in the fall. In addition, the student should have a competitive grade point average in the sciences and overall, a competitive MCAT score, and a CasperTM/Duet score. Applicants must be U.S. citizens or hold U.S. Permanent Resident status.
During the supplemental application process, applicants must submit all required documents to be considered for an interview. TouroCOM is looking for candidates who are interested in becoming outstanding osteopathic physicians. Students must be able to present an understanding of osteopathic medicine and display a passion to become a doctor in underserved areas. Primary applications are pre-screened by the admissions department, and only students who meet the admissions standards are offered a supplemental application.
After further review by the Admissions Committee, qualified applicants that have met all supplemental application requirements may be offered an interview. Touro University treats all employees, students, and applicants without unlawful consideration or discrimination as to race, ethnicity, creed, color, religion, national origin, sex, age, disability, marital status, genetic predisposition, sexual orientation, gender, gender identity, gender expression or citizen status in all decisions, including but not limited to recruitment, the administration of its educational programs and activities, hiring, compensation, training and apprenticeship, promotion, upgrading, demotion, downgrading, transfer, layoff, suspension, expulsion and termination, and all other terms and conditions of admission, matriculation, and employment.
International Students Accepted? Does Not Accept International Students
Application Interview Format: Traditional
Traditional interview via Zoom
Early Decision Program (EDP)
EDP Applications Submitted To AACOMAS
Supplemental Application
Supplemental Application Required? Yes
Minimum academic criteria: Overall GPA: 3.0; Overall Science GPA: 3.0; MCAT Total: 498; Submissions of Casper and Duet Scores from Acuity Insights (https://acuityinsights.app/).
Earliest Supplemental Application Submission Date: July 1, 2023
Supplemental Application Deadline: March 15, 2024
Supplemental Application Sent To: Screened Applicants
Minimum academic criteria:
Overall GPA: 3.0;
Overall Science GPA: 3.0;
MCAT Total: 498;
Submissions of Casper and Duet Scores from Acuity Insights (https://acuityinsights.app/).
Supplemental Application Fee: $200
Supplemental Application Fee Refundable? No
Supplemental Application Fee Waiver Available? Yes
AACOMAS waiver or military veterans.
Acceptances/Deposit Schedule
Earliest Acceptance Date
November 1, 2023
Latest Acceptance Date
July 15, 2024
Orientation/Start Date for First Year Students
July 22, 2024
Deferred Entrance Requests Considered? Yes
Acceptance/deposit deadlines conform to the AACOMAS Traffic Guidelines Schedule? Yes
Applicants will be requested to submit necessary matriculation documents, including a deposit, according to the following AACOMAS Traffic Guidelines schedule:
Those accepted prior to November 15 will have until December 14
Those accepted between November 15 and January 14 will have 30 days
Those accepted between January 15 and April 30 will have 14 days.
Those accepted on or after May 1 may be asked for an immediate deposit.
After May 1 of the year of matriculation, each medical college may implement college-specific procedures for accepted students who hold one or more seats at other medical colleges.
MCAT/GPA Information
Avg. Cum. Undergrad GPA Score
3.51
Oldest MCAT Considered: January 1, 2021
Accept September 2023 MCAT Scores? Yes
Accept January 2024 MCAT Scores? Yes
Accepted Sources for Letters of Recommendation
Main Admissions Contact
(212) 851-1199 ext. 42588
Phone
Tuition, Fees & Financial Aid
2023-2024 Academic Year
Tuition
Out-of-State Tuition
$64,040
Fees
Annual Fees
In-State Resident Fees
$200
Out-of-State Resident Fees
$200
Health Insurance Fee
$5,820
Tuition Fees Include
Technology (not computer)
Estimates, Deposits, and More
Estimated Annual Room Board, Books, and Living Costs
$43,327
Average Graduate Indebtedness
$87,264
Acceptance Deposit
$2,000
Additional Deposit
$1,000
Deposit Applied to Tuition? Yes
Deposit Refundable? Yes
2nd deposit is refundable prior to the start of classes.
Financial Aid
Percent of Enrolled Students with Financial Aid 88%
Scholarships Offered? Yes
Annual Scholarship/Grant Per Student: $1,923