NAACP Executive to Lead Diversity at TouroCOM Harlem
Published April 30, 2019
2019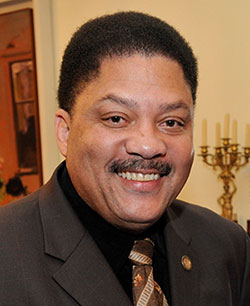 Touro College of Osteopathic Medicine (TouroCOM) and Touro College of Pharmacy (TCOP) in Harlem have appointed Geoffrey E. Eaton Director of Community Affairs and Diversity.
Mr. Eaton has a long history of leadership in Harlem, serving as first vice president of the New York State Conference of the National Association for the Advancement of Colored People (NAACP), the nation's most prominent civil rights organization. He also worked as chief of staff for long-serving Harlem Congressman Charles Rangel.
Mr. Eaton has ties with TouroCOM dating back years, almost to the opening of the medical school in 2007. He was a founding member of the TouroCOM Harlem Community Advisory Board (CAB) and serves as its co-chair. The CAB takes a lead role in raising money for scholarships for underrepresented minorities at the medical school. He has been a staunch advocate of TouroCOM's master's in biological sciences program—a pipeline to the osteopathic medical school—through which bright, talented, and motivated minority students interested in medicine but who may lack the high standardized test scores required by most medical schools can track into the osteopathic medical school.
A central part of the mission of both TouroCOM and TCOP is to increase diversity among their student populations and to serve the Harlem community, which suffers from disparities in health care. This year TouroCOM welcomed a record-breaking number of underrepresented minorities—over 27 percent of the class—but strives to do more.
"We are so pleased and lucky to have someone of Geoff's experience and talent join our team," said David Forstein, DO, dean of TouroCOM Harlem. "He has been an invaluable friend and brings a world of experience to this position. He will help us serve the community by interfacing with local boards and organizations, such as One Hundred Black Men, which meet regularly at TouroCOM." Additionally, said the dean, Mr. Eaton will supervise student community service activities, like health fairs, participation in Harlem Week and TouroCOM's Med-Achieve after school program for local high school students.
Of his new position, Mr. Eaton said: "I am delighted to be able to continue to carry out Touro's mission and goals of improving the health of Harlem's residents by fostering more community and student engagement and increasing enrollment of underrepresented minorities in medicine and pharmacy."