Students Help Local Communities, Partner with Habitat for Humanity, Build Playhouses and More
Published August 29, 2023
Campus Roundup Inside OME
LMU-DCOM CIPES Granted Provisional Accreditation by Society for Simulation in Healthcare
The Society for Simulation in Healthcare (SSH) and the Council for Accreditation of Health Care Simulation Programs has granted provisional accreditation to the Lincoln Memorial University-DeBusk College of Osteopathic Medicine (LMU-DCOM) Center for Interprofessional Education and Simulation (CIPES). SSH Accreditation is a peer-reviewed, customized evaluation of healthcare simulation programs. The accreditation examines processes and outcomes in assessment, research, teaching/education and systems integrations of simulation programs.
"LMU-DCOM has established itself as a leader in interprofessional education. The Society for Simulation in Healthcare's recognition of the Center for Interprofessional Education (IPE) and Simulation is further evidence of the quality of our IPE programs," LMU-DCOM Dean and Chief Academic Officer Christopher J. Loyke, DO, said. "While our facilities and programming are stellar, the driving force behind our IPE success is our people. We've assembled a team of professionals that are passionate about working together to provide the best training possible for our students and community. Sherry Jimenez, PhD, CHCP, CHSE, leads this innovative team and should be credited with this great accomplishment." Read more about the CIPES accreditation and what it means for future classes of osteopathic medical students.
---
AOASM Sponsors Workshop with VCOM-Auburn and Tuskegee University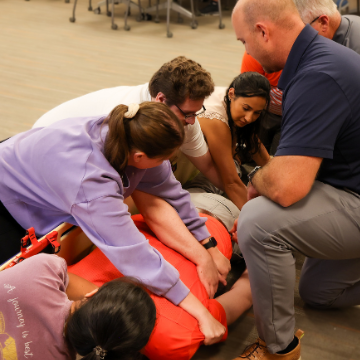 On August 13, 2023, the American Osteopathic Association of Sports Medicine (AOASM) sponsored a workshop at the Edward Via College of Osteopathic Medicine Auburn Campus (VCOM-Auburn), focusing on spine boarding and intubation techniques. Students from both VCOM-Auburn and Tuskegee University participated, while Joel McCloud Jr., MD, and his Tuskegee University students provided assistance and participation, fostering collaboration among students. Assisting the event were VCOM-Auburn faculty members, including Brett Sprouse, MS, MBA, DO; Bhavesh Joshi, DO; Jos (Joseph) Edison, DO; Michael Goodlett, MD; Shane Bealer (Sports Medicine Fellow) and Ashley Henning (Sports Medicine Fellow). View more photos on VCOM-Auburn's Facebook.
---
UNTHSC-TCOM Faculty and Staff Awarded Multiple Grants from AACOM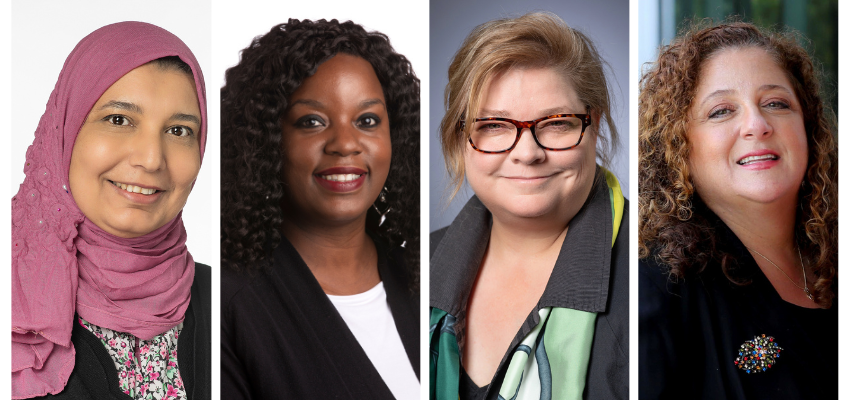 Innovation in graduate medical education is taking the next step, and the University of North Texas Health Science Center-Texas College of Osteopathic Medicine (UNTHSC-TCOM) is leading the way. UNTHSC-TCOM was awarded two grants from AACOM: the first is to study the impact of the new "Innovative Interviewing" curriculum that was implemented through the Professional Identity and Health Systems Practice (PIHSP) course and the second grant will study "Exploring a Novel Policy in health care curriculum: a needs assessment", also as part of the PIHSP Course. Read more about the projects.
---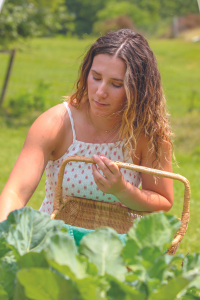 Physician and Lover of Farm Life Takes Pleasure in Life's Simple Things
Not much makes Savannah Keffer, DO, happier than being outdoors with her three dogs and tending to her three beehives and her chickens. The only thing that compares is learning about rural healthcare and working to become a family medicine physician in a rural area.
The West Virginia School of Osteopathic Medicine (WVSOM) Class of 2023 graduate recalls that as a child she remembers saying, "I want to be a doctor like dad." Her father, Scott Keffer, DO, is a 1996 graduate of WVSOM.
"Throughout high school, my dad had a farm with different types of animals. We had horses, pigs, chickens—everything you could imagine. I fell in love with farming, being outside, taking care of pets and watching things grow," Keffer said. "I had my heart set on going to vet school because I loved showing horses. I loved everything about animals. I loved getting gritty, and I liked gross stuff." Read more about Keffer's journey through medical school and passion for rural healthcare.
---
CHSU-COM First-Year Medical Students Start the Semester Helping Community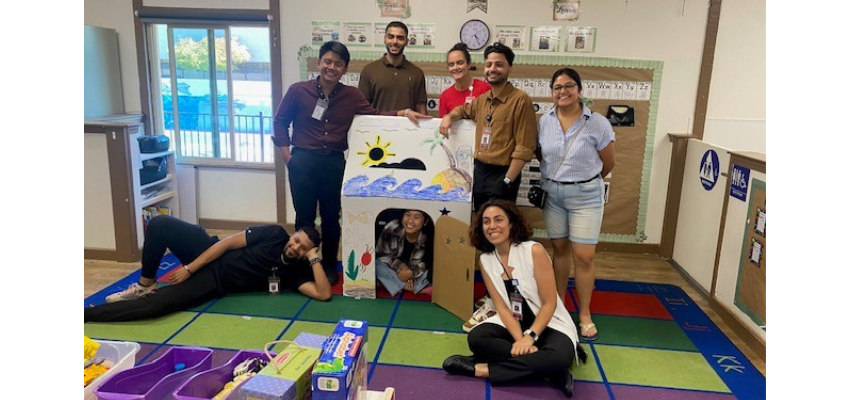 Photo: CHSU-COM first-year students Anurag Sandhu, Edwin Rojas, Saba Doustmohammadi, Aicha Naouai, Ahana Chakraborty, Carmelo Guerrero and Ramiz Ahmed delivered a playhouse designed by students to Stone Soup Fresno.
What started as a team building exercise has now become a new service project tradition at the California Health Sciences University College of Osteopathic Medicine (CHSU-COM) that is designed to help benefit underserved children in the Central Valley. First-year CHSU-COM students worked in teams to turn blank cardboard castles or playhouses into colorful, themed projects to help children with learning, imagination, fun and improved mental health. Read more about the project and view photos of the playhouses.
---
UNE COM's Marilyn Gugliucci Elected President of the Gerontological Society of America
Marilyn R. Gugliucci, MA, PhD, professor and director of geriatrics education and research in the University of New England College of Osteopathic Medicine (UNE COM)'s Division of Geriatrics, has been elected president of the Gerontological Society of America (GSA). She will assume her role first as vice president of the organization this coming January and will assume presidential status in January 2025.
The GSA is a multidisciplinary organization devoted to research and education in all aspects of aging, also known as gerontology, including the medical, biological, psychological and social sciences. An international organization of more than 5,500 researchers, educators and practitioners, the GSA was incorporated in New York City in 1945 and is the longest running organization of its kind. Read more about Dr. Gugliucci's role and past accomplishments.
---
AZCOM Introduces New Class to Service Opportunities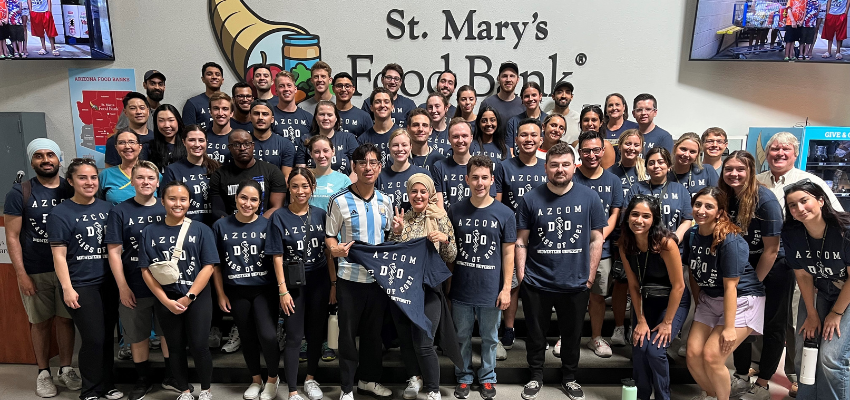 From July 31 through August 10, 2023, Midwestern University welcomed 251 first-year medical students as part of a new class for the Arizona College of Osteopathic Medicine (AZCOM) on the Glendale, Arizona campus.
In the spirit of Midwestern University's commitment to service, the aspiring osteopathic physicians spent time during orientation volunteering at St. Mary's Foodbank in nearby Phoenix, AZ. Together, the students and their faculty worked to prepare thousands of boxes of food to be distributed to those in the Phoenix community who are affected by food insecurity.
This new cohort of future AZCOM graduates represents 25 different states and several countries, with 42 percent of the students claiming Arizona as their home state.
---
VCOM-Louisiana Students Partner with Habitat for Humanity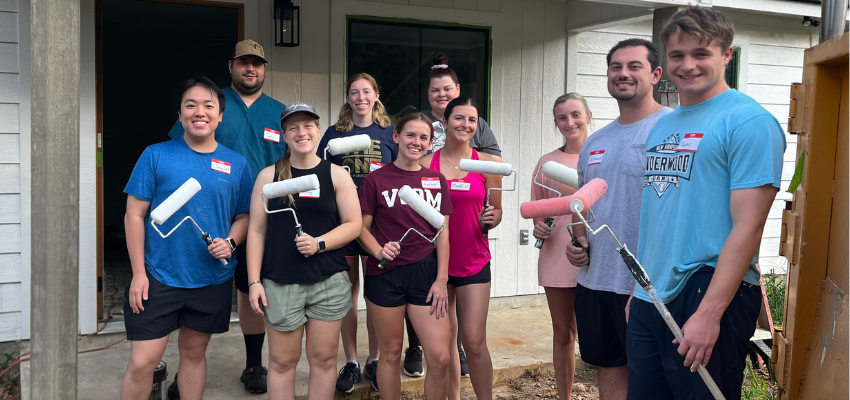 Photo: VCOM-Louisiana's SAAO chapter hard at work painting for Habitat for Humanity.
Edward Via College of Osteopathic Medicine Louisiana Campus (VCOM-Louisiana)'s chapter of the Student American Association of Osteopathy (SAAO) hosted its first community service event with Habitat for Humanity. Students helped paint the exterior and interior portions of the house, caulking, cleaning hinges and performing general touch-ups. View more photos on VCOM-Louisiana's Facebook.
---
VCOM-Carolinas' Administrators Meet with United States Performance Center for Collaborations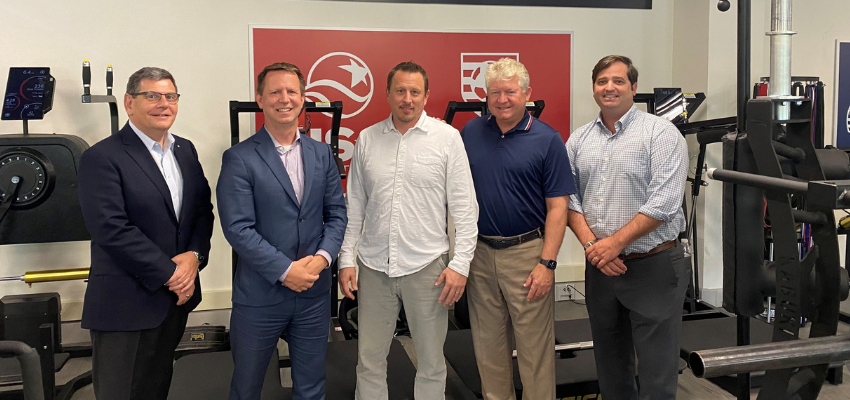 Edward Via College of Osteopathic Medicine Carolinas Campus (VCOM-Carolinas) Dean Matt Cannon, DO, and VCOM's Vice Provost for Research Gunnar Brolinson, DO, met with the founders of the United States Performance Center to discuss multiple potential areas of collaboration. They intend to couple VCOM-Carolinas' many strengths with the U.S. Performance Center's facility and world-class athletes. The U.S. Performance Center, located in Charlotte, North Carolina, is dedicated to research-based athletic development, injury prevention and overall health and wellness. Read more stories like this on VCOM-Carolinas' Facebook.