Students Battle in 'Taste the World' Tournament, Provide Mentorship to High School Students, Host a Blood Drive and More
Published September 19, 2023
Campus Roundup Inside OME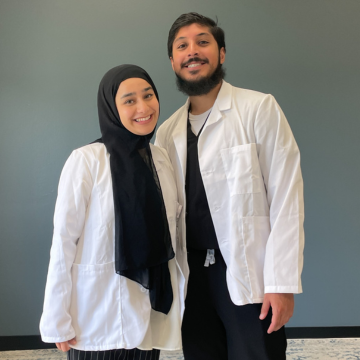 How a Married Couple Made Their Dream Come True by Getting into UNTHSC-TCOM
Zaid Siddiq had 48 hours to make a life-altering decision that would affect his wife, his family and his future. An offer to attend the University of North Texas Health Science Center-Texas College of Osteopathic Medicine (UNTHSC-TCOM) had just rolled in on Friday, July 7, 2023, but he and his wife Iqra Ameen had already moved to Missouri in anticipation of both of them starting medical school the following week. Siddiq had until Monday morning to make his decision to accept or decline what looked like the last spot available in the Class of 2027. Read more about the couple's story and how they ultimately made the decision to attend UNTHSC-TCOM.
---
CCOM Students Provide Mentorship During Health Careers Institute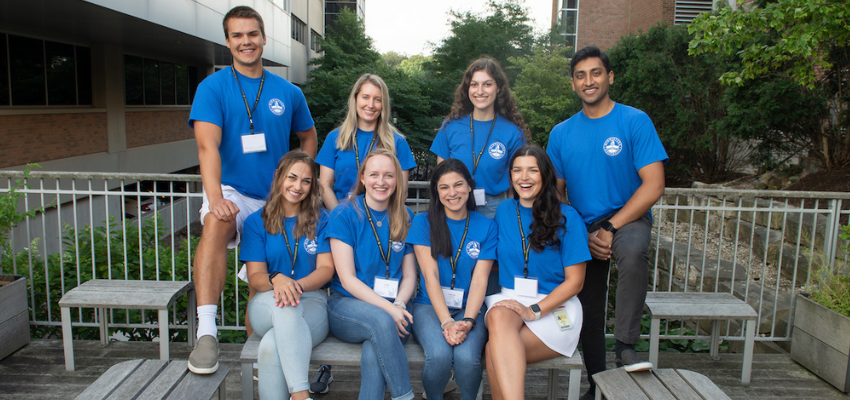 Photo: The CCOM student mentors were Tiffany Thompson, Julie Kavanagh, Donna Mehdiyar, Ava DiGirolamo, Daniel Misioura, Mallory Suhling, Amanda Abrams and Azaan Khan.
Chicago College of Osteopathic Medicine at Midwestern University (CCOM) held the inaugural Health Careers Institute on the Downers Grove Campus. Eight Health Careers Institute mentors, who were all CCOM students, provided mentorship, led sessions and accompanied 25 local area high school students throughout the four-day program.
Second-year medical student Azaan Khan shared his experience. "I remember the kind of excitement and inspiration I felt at that age when I learned something new about the human body, or how the future of medicine could change how I live my life. Seeing that in the kids felt nostalgic, and I imagine it will impact their future by inspiring them to pursue a health career with passion as well." He added, "Being a mentor for Health Careers Institute (HCI) has been beneficial for me, as I've gained experience with education for my future, on top of helping make a positive experience for the students who took part in HCI." The program offers teens an introduction to a variety of healthcare professions. Read more about what the students taught during the four-day program.
---
ICOM Students Share Health Education During Boise Pride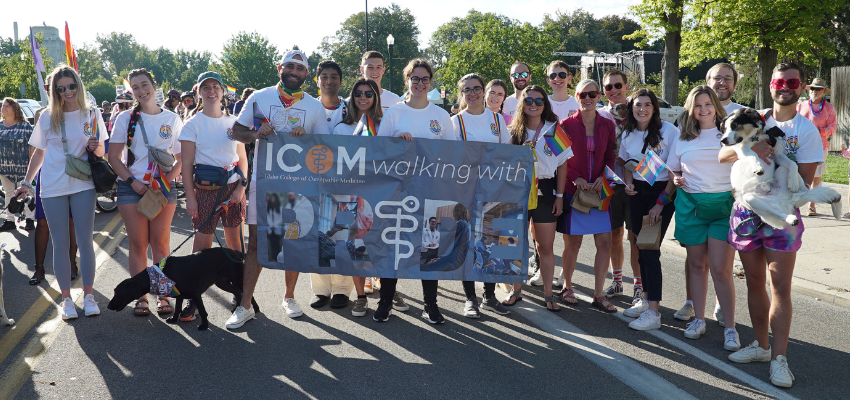 Photo: A group of ICOM's students, faculty and staff smile before walking in the Boise Pride Parade on Sunday, September 10, 2023.
Spearheaded by the Idaho College of Osteopathic Medicine (ICOM)'s LGBTQ+ and Allies Club, students set up a booth where they shared information about the College, hosted medical trivia and shared LGBTQIA+ health resources. The club's theme this year was: "Pride in practice. Equality in education." This marks the third year ICOM has been a sponsor of the Boise Pride Festival. View more photos from the event on ICOM's Facebook.
---
Medical Students Battle for Culinary Accolades in First Taste the World Tournament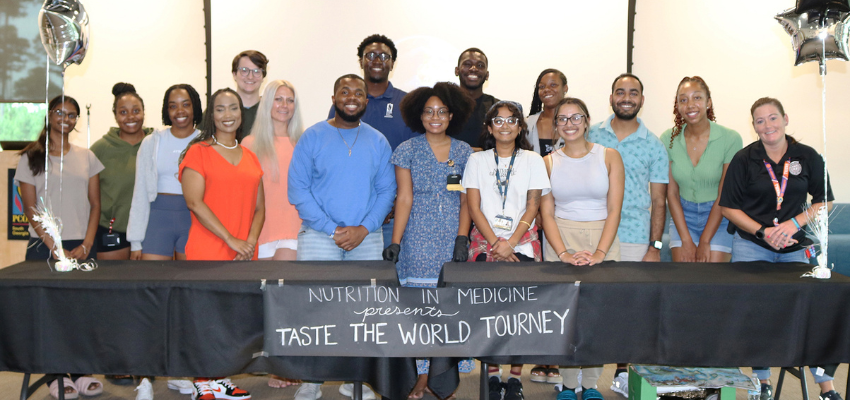 Philadelphia College of Osteopathic Medicine South Georgia campus (PCOM South Georgia)'s Nutrition in Medicine Club held its first Taste the World Tourney on September 7, 2023. The competition included some delicious rivalry and an opportunity to learn about different cultures. The food competition provided an opportunity for students to share their culinary skills and an occasion for the campus community to spend time together.
"We decided to host this event because we just wanted to have one big event that brings faculty, staff and students together to just share a meal together," said Emeka Ikeakanam (DO '26), Nutrition in Medicine Club president. "I think it was really successful, especially for our first event." Read more and discover the winner of the Taste the World Tournament.
---
WVSOM to Implement 'WISH' Program for Greenbrier County Women
West Virginia School of Osteopathic Medicine (WVSOM)'s Center for Rural and Community Health was selected as one of the winners of Quality Insights' 50th-anniversary grant program, created to support promising and innovative initiatives to improve health and healthcare quality. The program will provide structured events based on nutrition, exercise and health education, empowering women in Greenbrier County, West Virginia, to take control of their health by creating long-term improvement in their body mass index scores and healthy behaviors. Read more about the WISH project and the inspirational story of Drema Hill, PhD, who spearheads the program.
---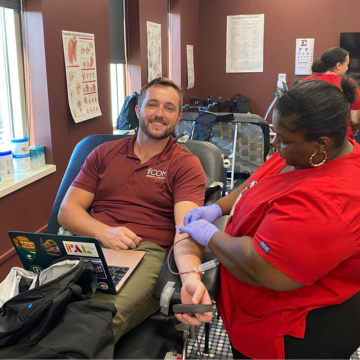 VCOM-Carolinas Hosts Blood Drive
Photo: A member of the VCOM-Carolinas community participates in the blood drive.
Edward Via College of Osteopathic Medicine Carolinas Campus (VCOM-Carolinas) hosted a blood drive with the South Carolina chapter of the American Red Cross on September 6, 2023. VCOM-Carolinas faculty, staff and students donated 29 units of blood. VCOM-Carolinas is optimistic this number will only increase during the next on-campus event. The Medical Outreach and Volunteer Effort (MOVE) student organization planned this event. View more photos from the event on VCOM-Carolinas' Facebook.
---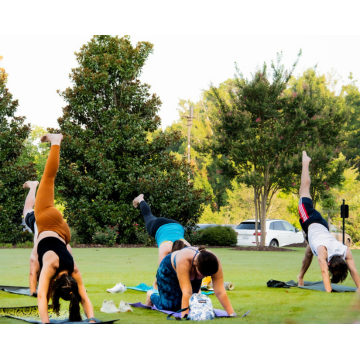 VCOM-Auburn Enhances Wellness Through Yoga
Edward Via College of Osteopathic Medicine Auburn Campus (VCOM-Auburn) is committed to enhancing the overall wellness of its community, including both mental and physical health. As part of that commitment, VCOM-Auburn hosted an invigorating yoga session in collaboration with the "Become Yogis" group. The event exemplified the college's dedication to creating a culture of well-being and underscored the importance of self-care and stress management for all members of the VCOM-Auburn community. View more photos on VCOM-Auburn's Facebook.
---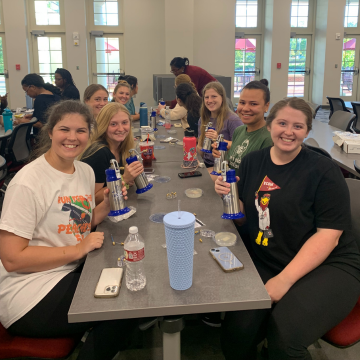 VCOM-Louisiana Students of ACOFP Host Cryotherapy Workshop
Photo: Students from VCOM-Louisiana's chapter of the American College of Osteopathic Family Physicians.
Edward Via College of Osteopathic Medicine Louisiana Campus (VCOM-Louisiana)'s chapter of the American College of Osteopathic Family Physicians (ACOFP) hosted Jeffery McDowell from Brymill Cryogenic Systems for a cryotherapy workshop. Students learned about the various medical conditions cryotherapy could treat, and were able to practice how to properly use the Cry-Ac Liquid Nitrogen sprayers. View more photos from the event on VCOM-Louisiana's Instagram.
---
VCOM-Virginia Second-Year Students Say Goodbye to Anatomy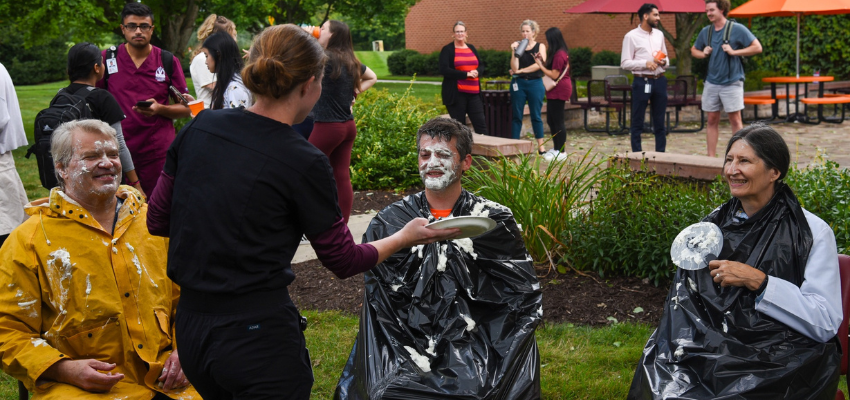 Edward Via College of Osteopathic Medicine Virginia Campus (VCOM-Virginia)'s Class of 2026 said "goodbye" to anatomy class with a "good pie" to the face of VCOM-Virginia's anatomy professors! A fun afternoon was had by all as the students and faculty came together to celebrate their hard work. Each student who participated made a donation to the American College of Osteopathic Surgeons - Medical Student Section's Operation Smile fundraiser. Congratulations to our second-year students for completing another VCOM-Virginia milestone! View more photos on VCOM-Virginia's Facebook.
---
DO Students Provide Medical Support in 100 Degree Weather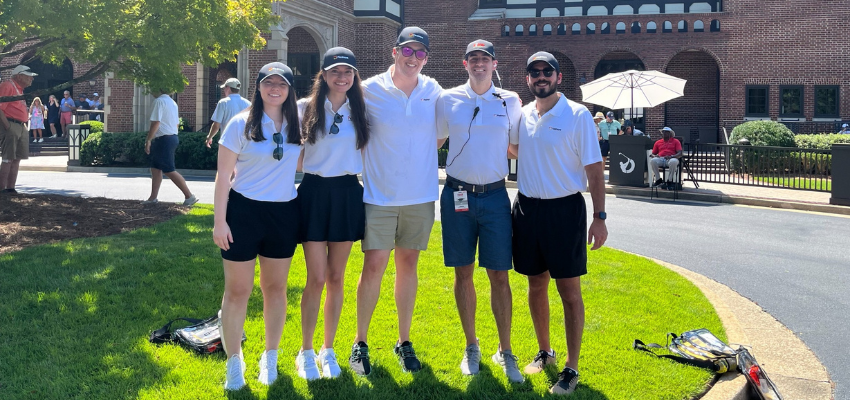 Erik Zarandy, DO '12, assistant professor of family medicine at the Philadelphia College of Osteopathic Medicine Georgia Campus (PCOM Georgia), recently led a group of medical students in providing medical support at the PGA TOUR Championship at the East Lake Golf Club in Atlanta. As volunteers for medical coverage, this was an opportunity for students to learn to manage varying degrees of heat-related illnesses (especially with the heat index approaching 100° F that week). View more photos from the event on PCOM Georgia's Facebook.
---