AOGME RFC Alumni: Where Are They Now? DeAundre Dyer, DO
Published September 27, 2023
GME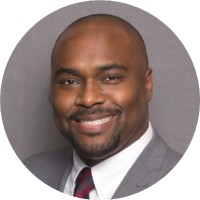 DeAundre Dyer, DO, is a born leader with a strong passion for organizational governance. Throughout his residency, while also serving as an RFC Executive board member, he assumed significant leadership roles, including resident governor at the American College of Osteopathic Family Physicians and active involvement in the Ohio Academy of Family Physicians' public policy committee since 2016. He also served as the resident board member for the Academy of Medicine of Cleveland and Northern Ohio and is currently a member of the New Physicians Committee and the AACOM UME-GME Task Force.
Dr. Dyer holds the position of lead physician at Optum Health, a subsidiary of UnitedHealth Group. As pioneers in the realm of value-based care, Optum Health stands out as one of the companies to have forged a significant presence in this innovative healthcare sector. In addition to his work at Optum Health, Dr. Dyer is also an adjunct clinical assistant professor of family medicine at Ohio Heritage College of Osteopathic Medicine.
Dr. Dyer graduated with honors as a Doctor of Osteopathic Medicine from Michigan State University College of Osteopathic Medicine in 2018. He was the recipient of multiple awards such as Annette H. Kabara Family Endowed Fund, The Michigan Osteopathic College Foundation Scholarship and the Edward N. Hodges J.D. Scholarship.
Dr. Dyer is making a profound impact by serving an urban, medically underserved population Dr. Dyer's commitment underscores the vital role healthcare professionals play in enhancing the well-being of underserved communities.