OHPF Kicks off 2022-23 Year at WVSOM
Published August 25, 2022
Osteopathic Health Policy Fellowship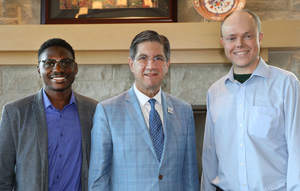 Photo right: WVSOM President and OHPF alumnus James Nemitz (center) greets 2022 OHPF Members and WVSOM Alumni Dimitri Tito (left) and Phillip Eskew,(right) August 2022

The Osteopathic Health Policy Fellowship kicked off its 2022-23 year with a four-day visit to the West Virginia School of Osteopathic Medicine, in Lewisburg, West Virginia. From August 17-21, the new class of fellows were introduced to new modes of thinking about health care–what the fellowship has for more than a quarter century called a "high ground" approach to policy. A series of interactive sessions with a range of West Virginians raised foundational questions about how best to deliver health care services to rural and other underserved populations in Appalachia. An intentional focus sought to distinguish those areas in which clinical medicine could be the difference maker and where public health could have a larger impact.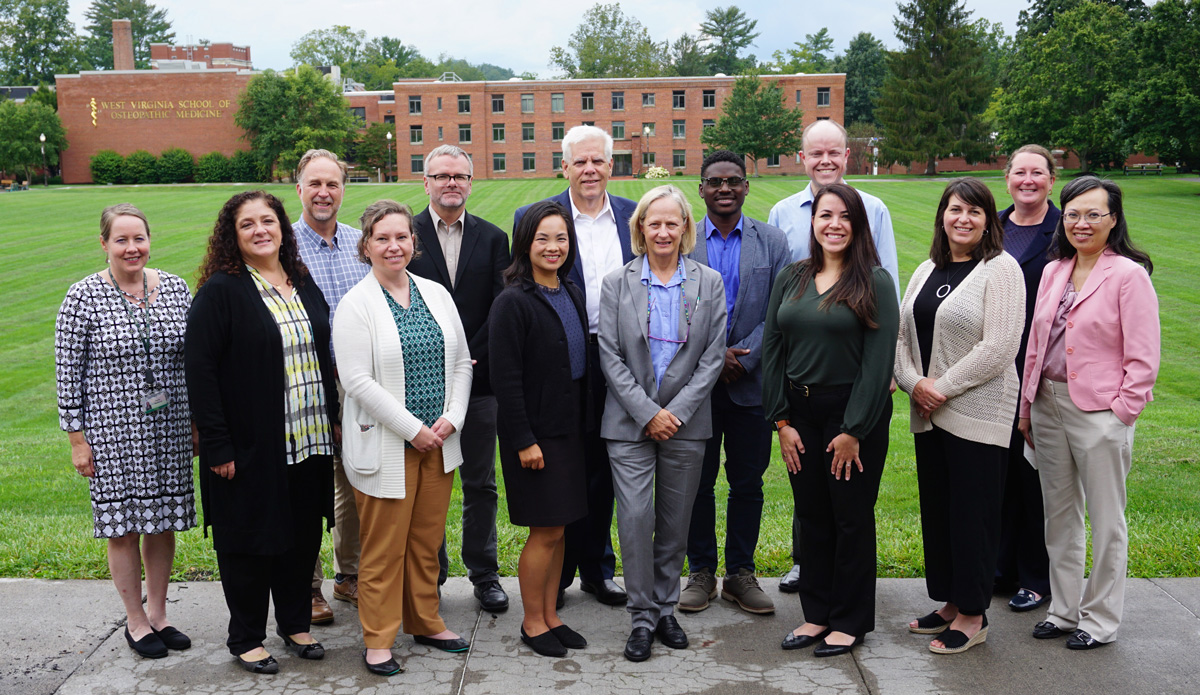 Caption: Osteopathic Health Policy Fellowship Class of 2023 with Presenter Jan Rader at the West Virginia School of Osteopathic Medicine, August, 2022. Left to Right, Back Row: Haylee Heisenberg, Director of Public Policy and Advocacy, WVSOM; Kevin Miller*, Bend, OR; Dan Skinner, OHPF Co-Director, Dublin, OH; Al Pheley, OHPF Co-Director, Jackson, MI; Dimitri Tito*, Kalamazoo, MI; Phil Eskew*, Mauldin, SC; Wynde Cheek*, Helena, MT; Front Row: Janet Lieto*, Ft. Worth, TX; Anya Cope*, Harrogate, TN; May Lin*, Moraga, CA; Jan Rader, Speaker; Britani Javed*, Mesa, AZ; Cheryl Graffagnino*, Dublin, OH; Thun-Tien Le*, Tacoma, WA (* = Fellows)

The group toured WVSOM's beautiful campus in rural West Virginia, visited with the staff at a local federally qualified health center, and heard about innovative WVSOM programs in nutrition and other areas of medical education that connect with policy. Perhaps the highlight of the visit was a day spent with Jan Rader, the legendary former fire chief, nurse, and a well-known leader in efforts to address West Virginia's crisis in substance use disorder. Currently, Rader is
Director of the Mayor's Council on Public Health and Drug Control Policy
in Huntington, West Virginia.
This year's OHPF class will meet ten times this year, including six in-person sessions. The group's next in-person meeting will take them to Des Moines, Iowa in November, where the group will focus on state-level policymaking. The host of that session will be the Des Moines College of Osteopathic Medicine.